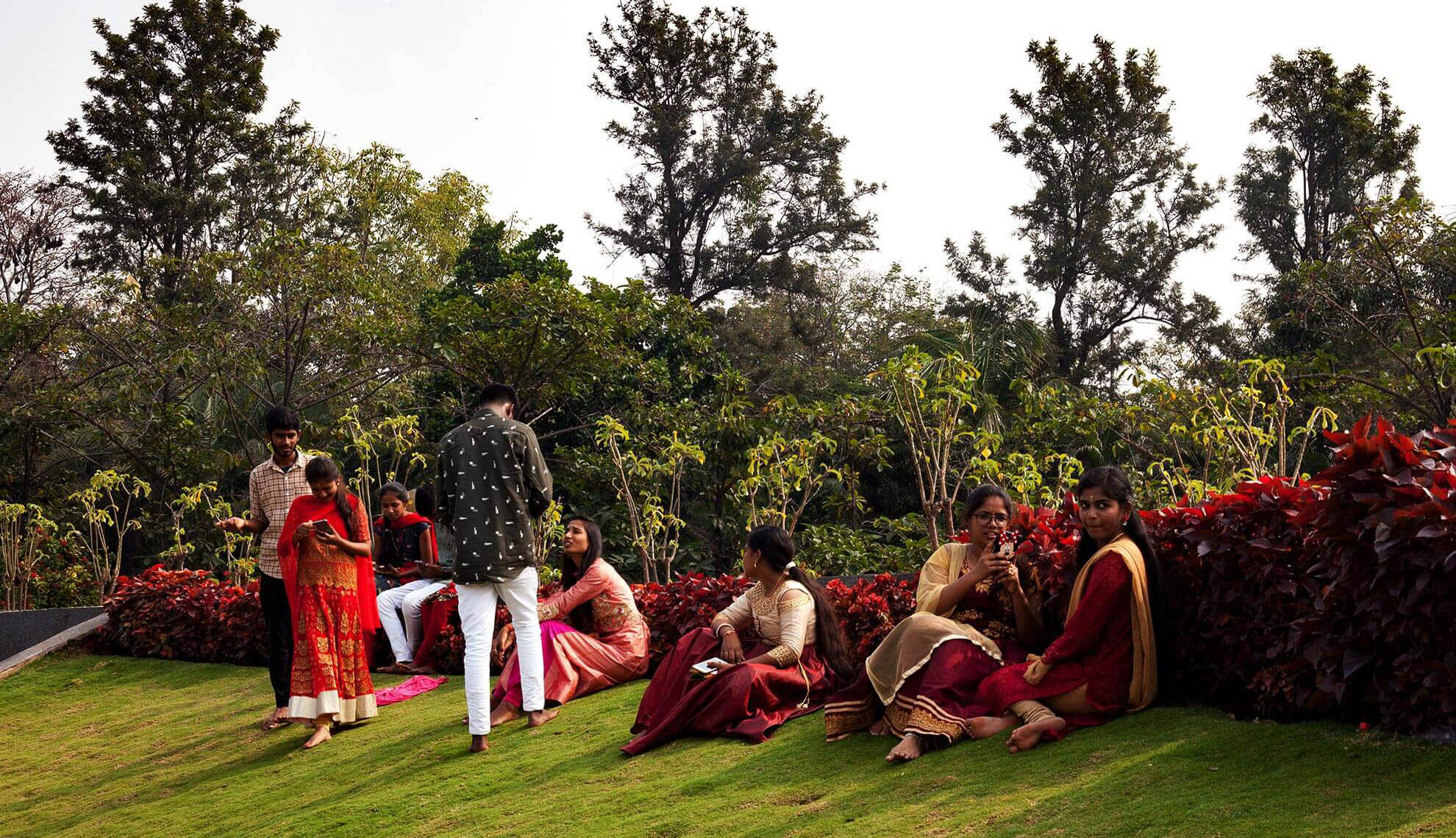 The Indian Wedding: A Wonderous Display of Time-Honored Traditions in a Modern World.
The mere opportunity to attend such a wedding, where someone I knew – a close friend even – was getting married, was one of the most surreal and magical experiences of my life. I don't say that lightly, either.  I've had the privilege of living abroad and seeing some of the actual wonders of the world, but even with their known history and unfathomable feats, they lacked the intimacy and vibrance I felt in congress with so many people in Hyderabad, India.
It might not be the vacation that comes to mind when given the option and even visiting India is quite the adventure for most Americans but, the opportunity, if given, should not be taken lightly.
The following is my best attempt at working through the emotions I felt, the rituals I learned about and the things I experienced while attending my friend's wedding earlier this year.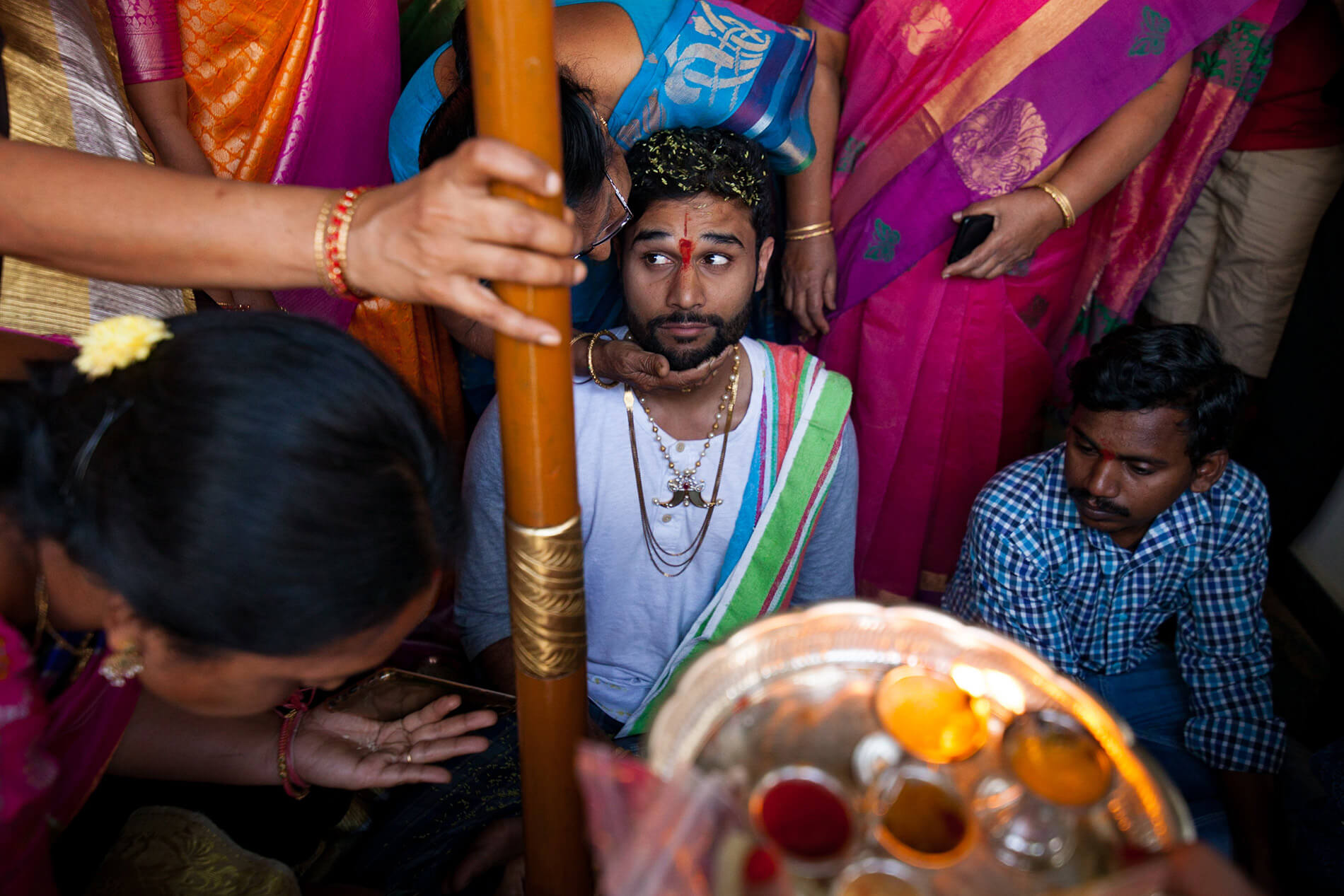 Everything began quite all of a sudden – my friend Rishi, born in India, but growing up in America since he was six, was quickly engaged and even though I knew, I figured the wedding might be a ways away. He approached me and invited me saying it would be great if I could make it. I'd never been to an Indian wedding, and although I've been to India years ago, it wasn't on my near-future list of places to visit. I was naive, thinking I should maybe save my money on a place I hadn't seen before until – SMACK – I awoke from my privileged stupor and thought how fortunate I was to be invited to my friend's wedding, and that I had friend's to celebrate with. 
"Hell yes", I told him, and so I prepared and purchased my plane ticket to Hyderabad, with two months to spare. Over the years, in my immaturity and lack of self-control, I know I've flubbed a handful of friendships; seeing the world through selfish eyes of how to maintain some type of comfort in mind, flaking out or simply not caring enough. But time has been a great teacher, as was facing reality, and I was determined to change things and I wanted to do what I could to support my friend.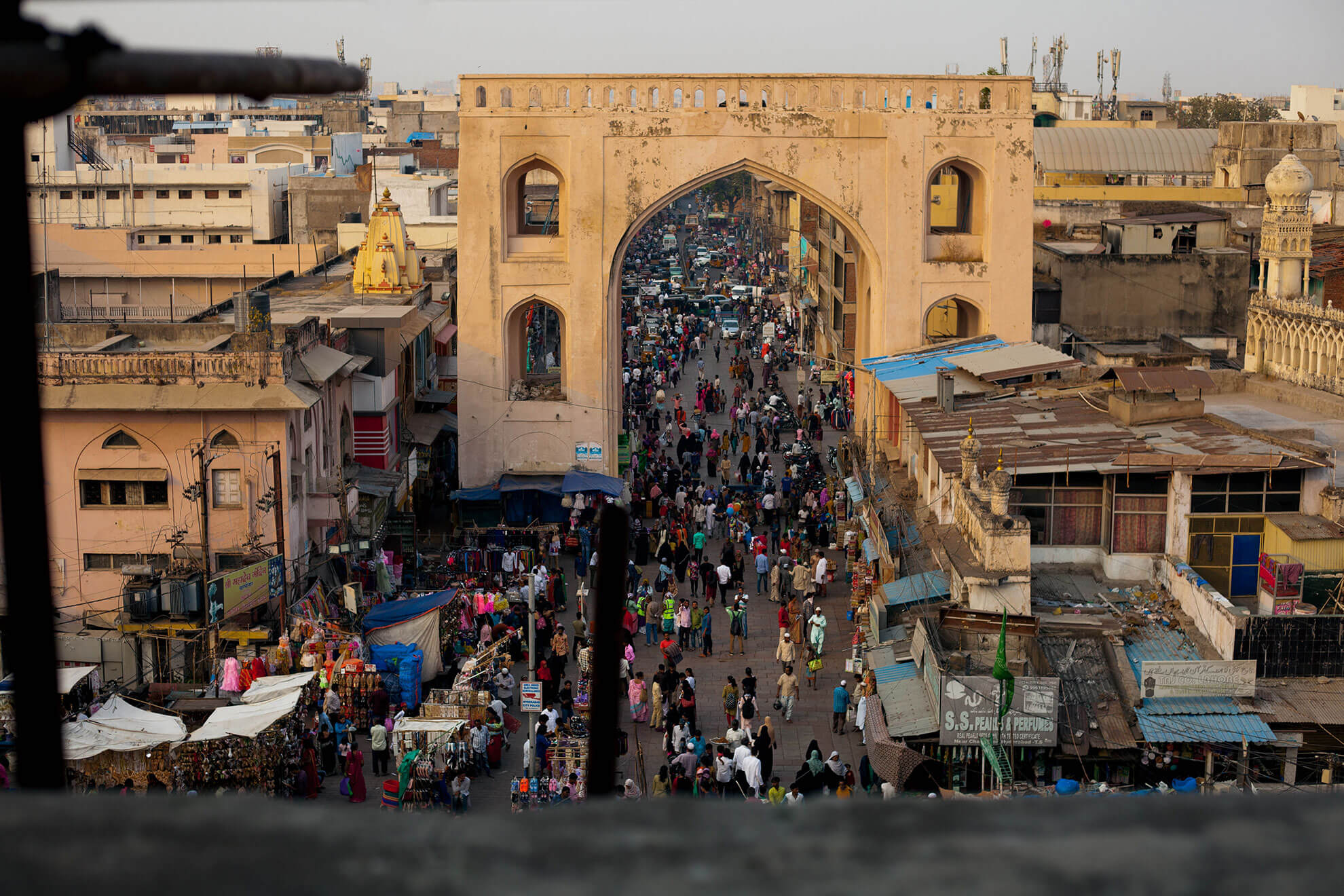 As the sun sets, the orange hues of the golden hour illuminate the archways leading to the Charminar. Everything beyond the large gate is foot traffic only.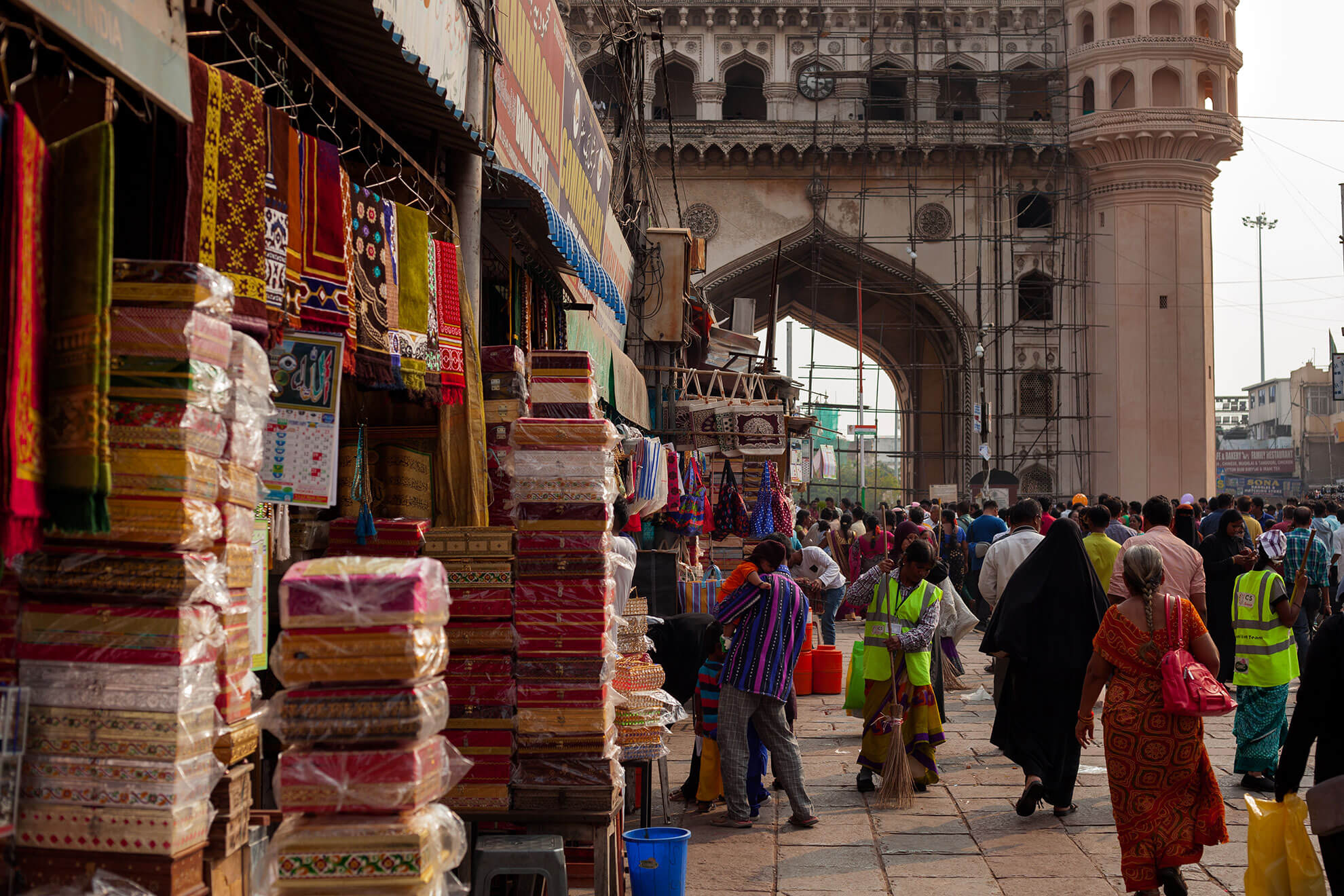 A near 180-degree perspective switch from the image on the left, many shops selling prayer rugs, Korans and prayer beads line the marketplace around the Charminar, seen towering in the background.
Rishi and his family come from Telangana, a state located in south-central India. Hyderabad, the fourth largest city in India and capital of Telangana, was founded by Persianate Muslim Sultan Muhammad Quli Qutb Shah in 1591. Today, Hyderabad is widely known for its historic monuments, Muslim influence, technology, Biryani, and its film industry.
When I arrived in India, still looming from traveling the past 20 hours, I gathered my luggage – which took an absurdly long time to arrive – and looked for my promised driver, who – I was told by Rishi – would be standing outside of the entrance with my name and the name of the wedding photographer on a sign. I wheeled my luggage, which I proudly condensed into one large suitcase this time, and scanned every single person with a sign at every entrance I could consider being an exit. Nothing. Since my cell phone wouldn't work and WIFI was only a dream, I started feeling the bittersweet feeling of being far the hell from home, alone.
I flagged down a guy I recognized from the plane who told me he was traveling to Hyderabad for his own Indian wedding and told him my situation and as if his phone was off-limits, he grabbed his driver's phone and gave it to me. I punched in Rishi's India number and asked where the hell my driver was. Around that time, I saw a taller not-Indian man with a shaved head pacing around in search of something, or someone. Rishi told me to look for the wedding photographer, Fred. I started walking towards the man I saw pacing, taking hits of his industrial-sized vape pen until I heard, "Brian?".
We shook hands and, relieved to have someone to figure out how we were getting to our hotel, searched for our driver who happened to be 3 minutes away in the parking lot.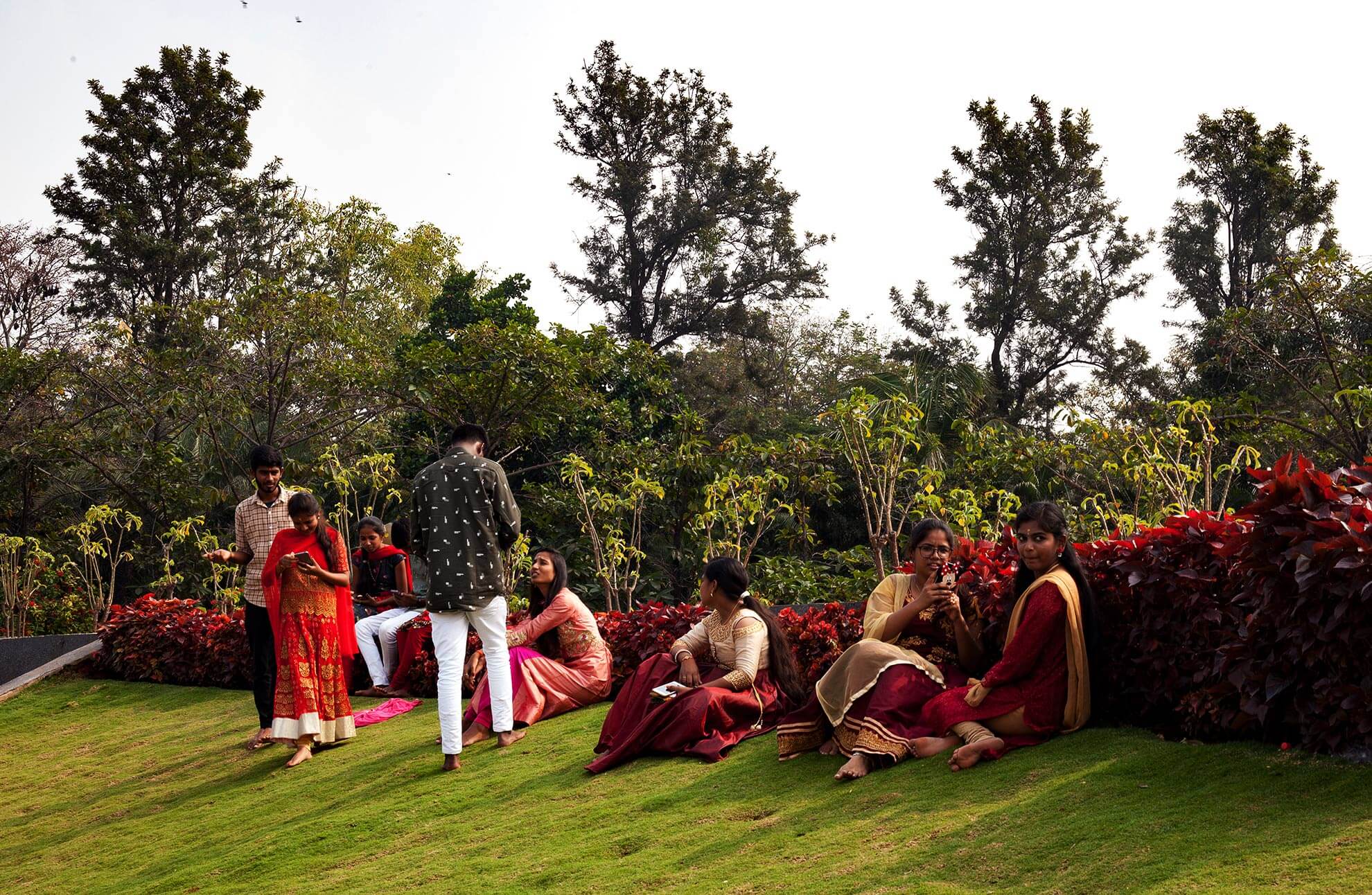 A group of friends enjoys their time together at NTR Gardens near Hussain Sagar Lake. Entrance to the gardens, which includes access to several monuments and wonderfully maintained grass areas, costs 20 RP (about 25 cents). Shoes may not be worn inside the gardens.
Arriving at our hotel in Banjarahills, we all desperately needed to stretch our legs, but at 11:00 PM on a weeknight, nearly everything was closed up with their steel gates lowered and locked. The one thing that didn't seem to go home for the night was the absurd amount of cars and traffic and horns honking at a rate of three honks per second. No matter the time of the day, the streets were always packed like it was rush hour. It sometimes felt like the Matrix, and cars just looped through, over and over.
We asked a street vendor if any Biryani spots were still open and he pointed down the street. Two doors down from our six story hotel, we stumbled upon the biryani restaurant that had more signage that it did tables. We paid an astonishing 120 RS ($1.60) per person for pots of biryani that two people could find hard to finish. But I was hungry and the buttery melt-in-your-mouth texture of the rice and chicken with that punch of biryani spice, it made my job easy.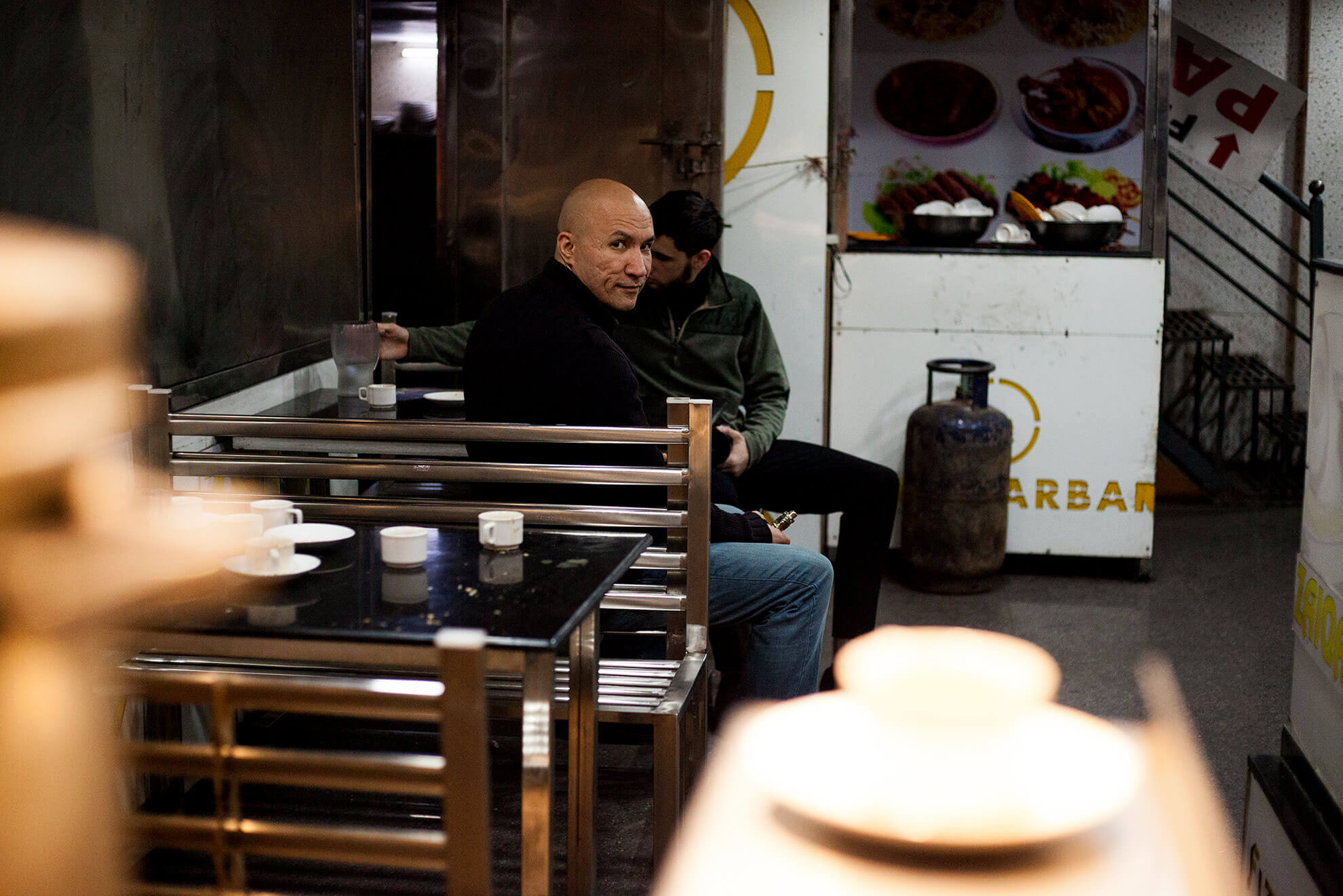 After flying from Orlando to Dubai (16 hours), and Dubai to Hyderabad (3hrs 45min), our minds were tired, but our bellies were empty. Fred looks back as we wait for our $1.50 chicken Biryani to arrive at 11:45 PM. Banjara Hills, Hyderabad
Day 1: Exploring India
As I mentioned before, I ended up a door down from Fred Asaad, a wedding photographer from central Florida who primarily shoots Indian weddings. Along with his son he brought along for the journey and the assistance, we made great friends and explored as much as we could on off days.
With our cameras ready, we headed for a few major parks in the area and while some cost a great deal more to enter with cameras, others only required we take our shoes off before entering. Everywhere we went, there were people enjoying the day with their friends or family.
After some time, I recommended we check out the Charminar, an ancient, square-like monument and mosque surrounded by a dense, lively town of walkers and bangle shop owners and Irani tea vendors and everyone else in need of something. Charminar is Urdu for "four towers" and after being dropped off at the town's entrance – guarded by cement poles ensuring only foot traffic could enter – it was the first thing you saw, towering over everything.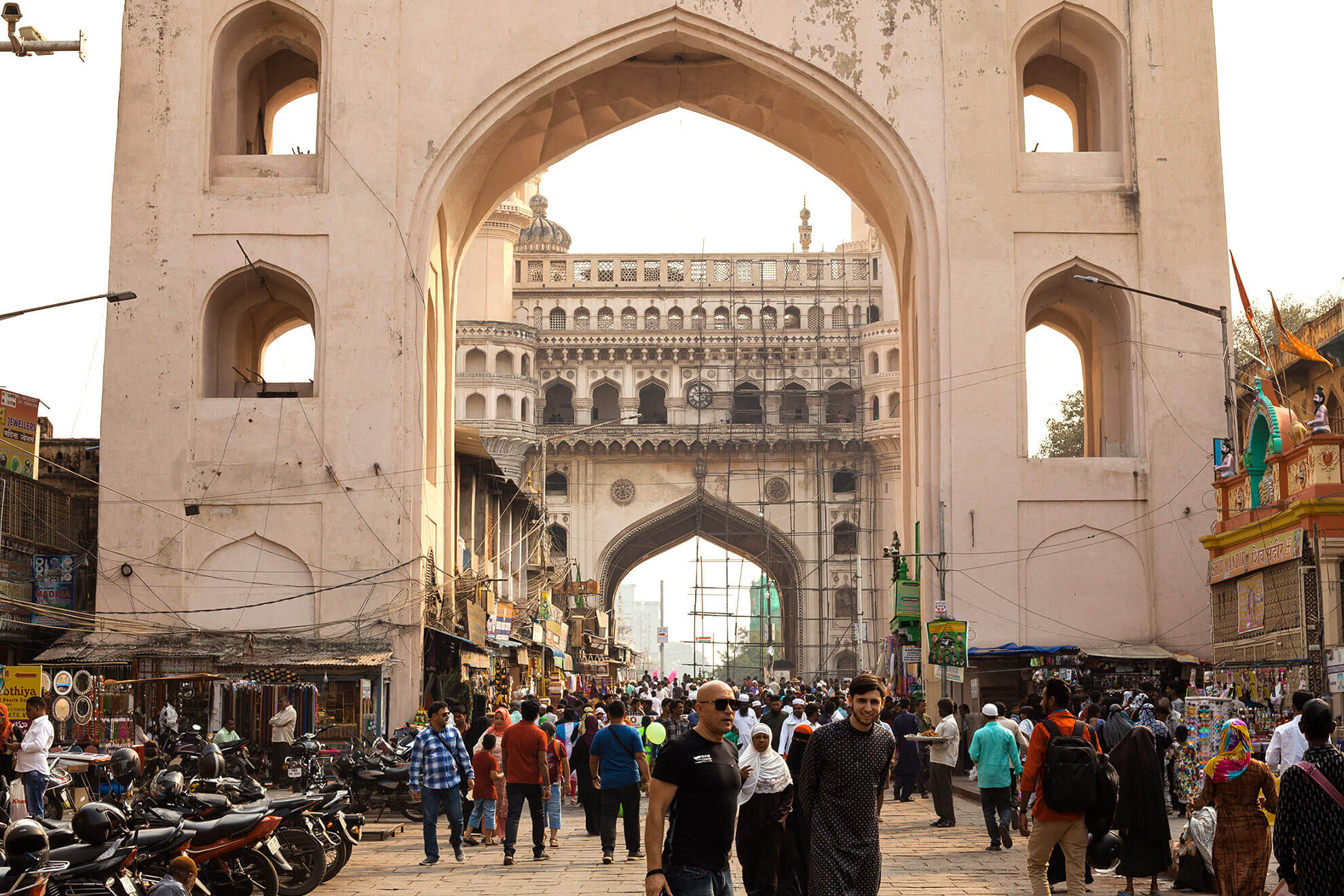 Large gateways mark the beginning of the pedestrian area around the Charminar. Shops line both sides of the wide walkway and towards the entrance, and offer many items from prayer mats, pearls, bracelets and more.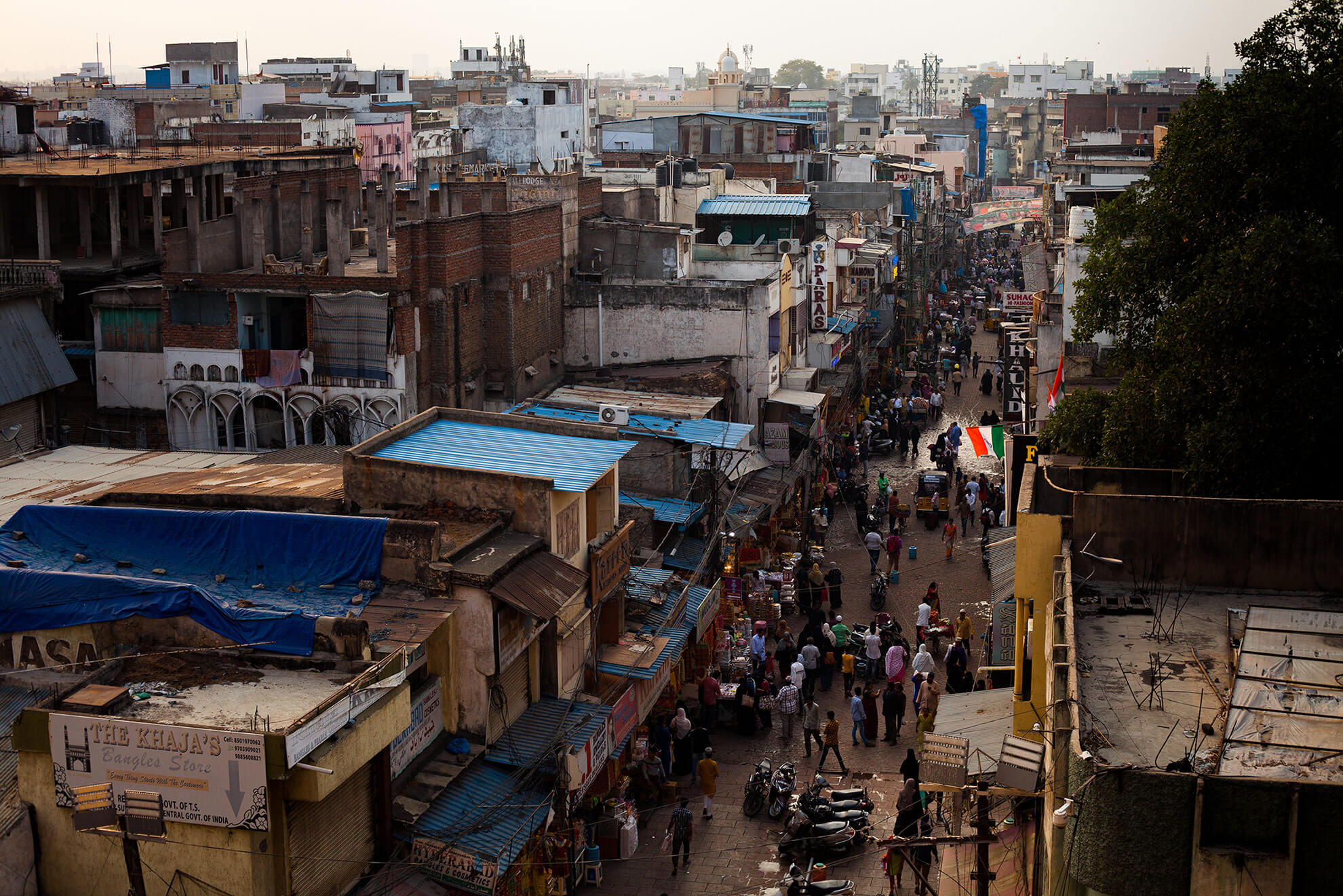 The town that encompasses the Charminar is always busy with locals looking for deals on bangles, ornate clothing or other jewelry. Most of the ware sold here is aimed for women.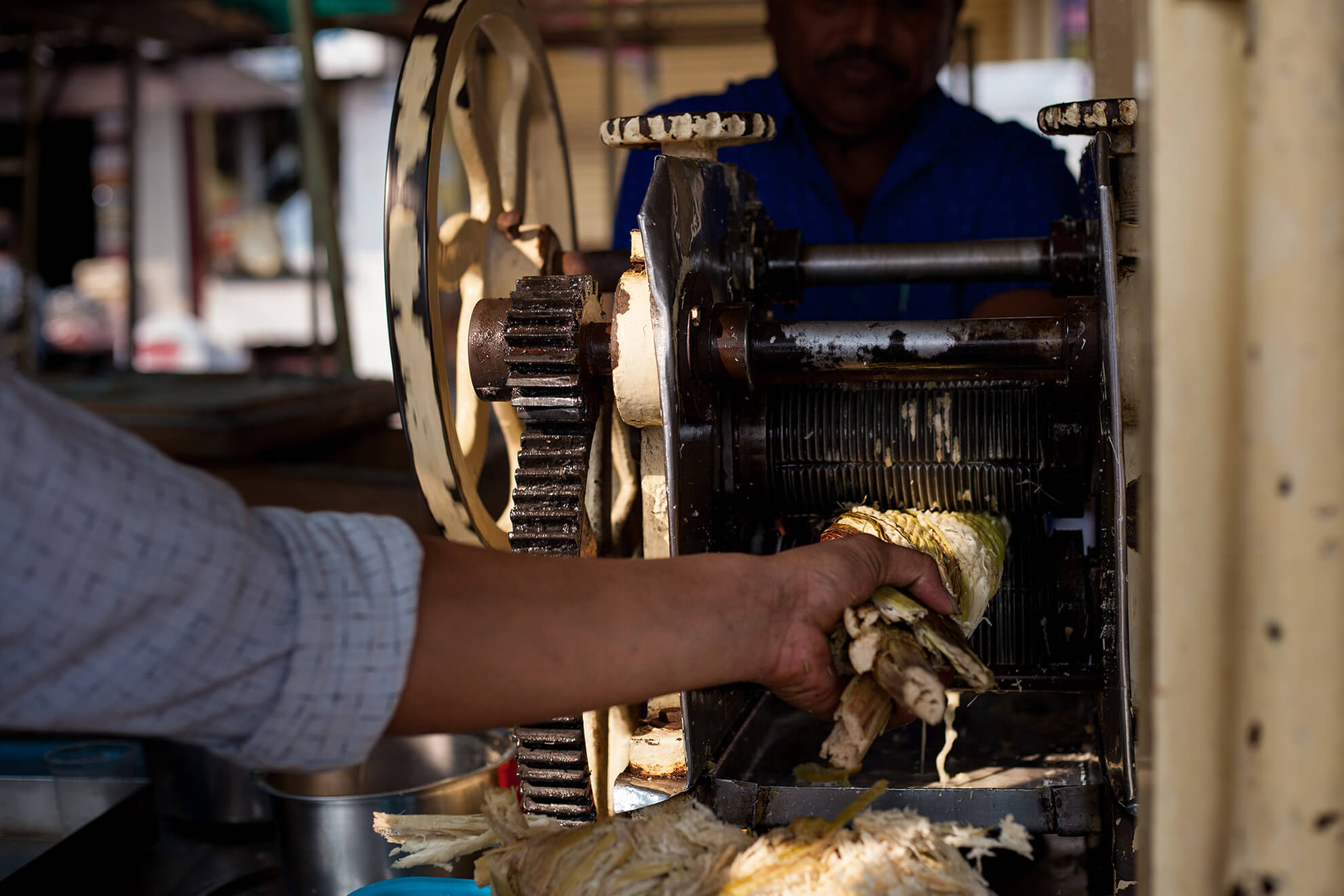 Sugar cane juice is an excellent refresher in the warm sun, even in the winter months. For 10 RS, you can get a handpressed glass of the sugary drink. 
At the risk of sounding absolutely uncultured, with its Persian and Muslim character, the town and Charminar is very reminiscent of Agrabah, the famous Disney city in Aladdin. With the layered buildings which look great for jumping roof top to roof top, the jungle like marketplace and the signature passageways that resemble a teardrop bell jar. After a few laps through alleyways and past many magic carpets being sold, we enjoyed freshly baked, buttery, pistachio biscuits and milky Irani chai. It was damn good.
Once the sun started to set and cause all the buildings to glow in the dusty sky, we hailed a rickshaw driver and asked the driver if he could take us to the nearest, recommended bar. The drive to the bar – a most non-linear path filled with many anxiety causing turns and abrupt stops – is equal parts surreal, interesting and terrifying.
From outside, the bar looking like nothing more than a blue painted cement wall and iron barred windows. Inside, we were the immediate attention of everyone. I'm sure most thought we were lost. I approached the "bar" – another iron bar enclosed room that looks like a gambling bookie worked behind it – and ordered a few beers in broken Hindi. The bar man looked confused as the locals mostly speak Telugu, the local language of Hyderabad, but a lady who worked there was most hospitable, smiled and pointed to the beers we asked for and then guided us to our seats.
The bar furniture was literally white plastic patio furniture and chairs, coated in a lifetime of dust and dirt. We sat towards the back, and I could feel the unashamed, glossed over eyes of patrons. While there was a slight tension and uneasiness in the beginning, the hospitality and booze leveled us out and we had a great time. By the end of our stay, several locals joined us teaching us tricks and making jokes, all together laughing and enjoying our time.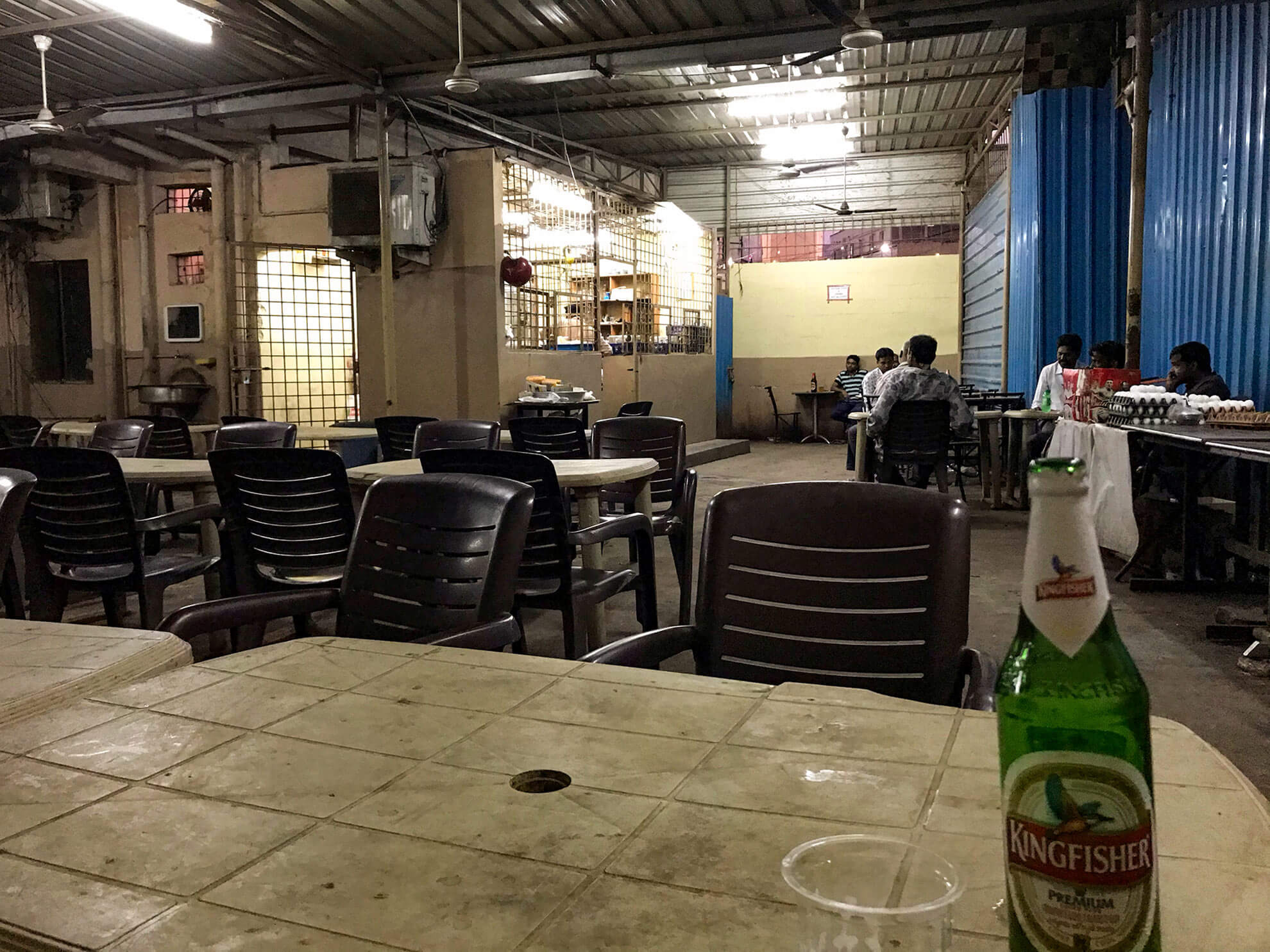 Basic patio furniture covered in dirt and dust and bright lighting is more of a local hangout than a bar one might see in the states. This bar offered a few selections of bottled beer, red stag whisky and eggs to purchase and eat. 
Day 2: Maṅgaḷa Snānaṃ
Since I wanted to capture Rishi's wedding and tell its story, I figured it would be a smart idea to tag along with the wedding photographers. On the first day of ceremonial wedding days, we woke up at 4:00 AM. This felt good because I usually connect suffering for art an ingredient to getting what you want, but damn, waking up that early to a cacophony of traffic was rough. We departed shortly after for Karimnagar, the village-town where Rishi was born, and where his family all grew up, many still living there. This was where the pre-wedding rituals would begin for the groom. (Meanwhile, the bride was having her own type of day, in a different location) The drive to Karimnagar was only 100 miles away but the drive took around three hours since the roads aren't exactly built for 60-70 mph. The roads out of the main city felt labyrinth-like as I tried to remember an idea of the directions, but it was impossible and dark. Eventually, the sun rose and we drove long straightaways strewn with hundreds of acres of cotton farms and a half-built village every few minutes.
We arrived and were fed breakfast after setting out things down. The village reminded me of my time in Nepal and I felt at peace. Everything was calmer here, less traffic and noise compared to Hyderabad.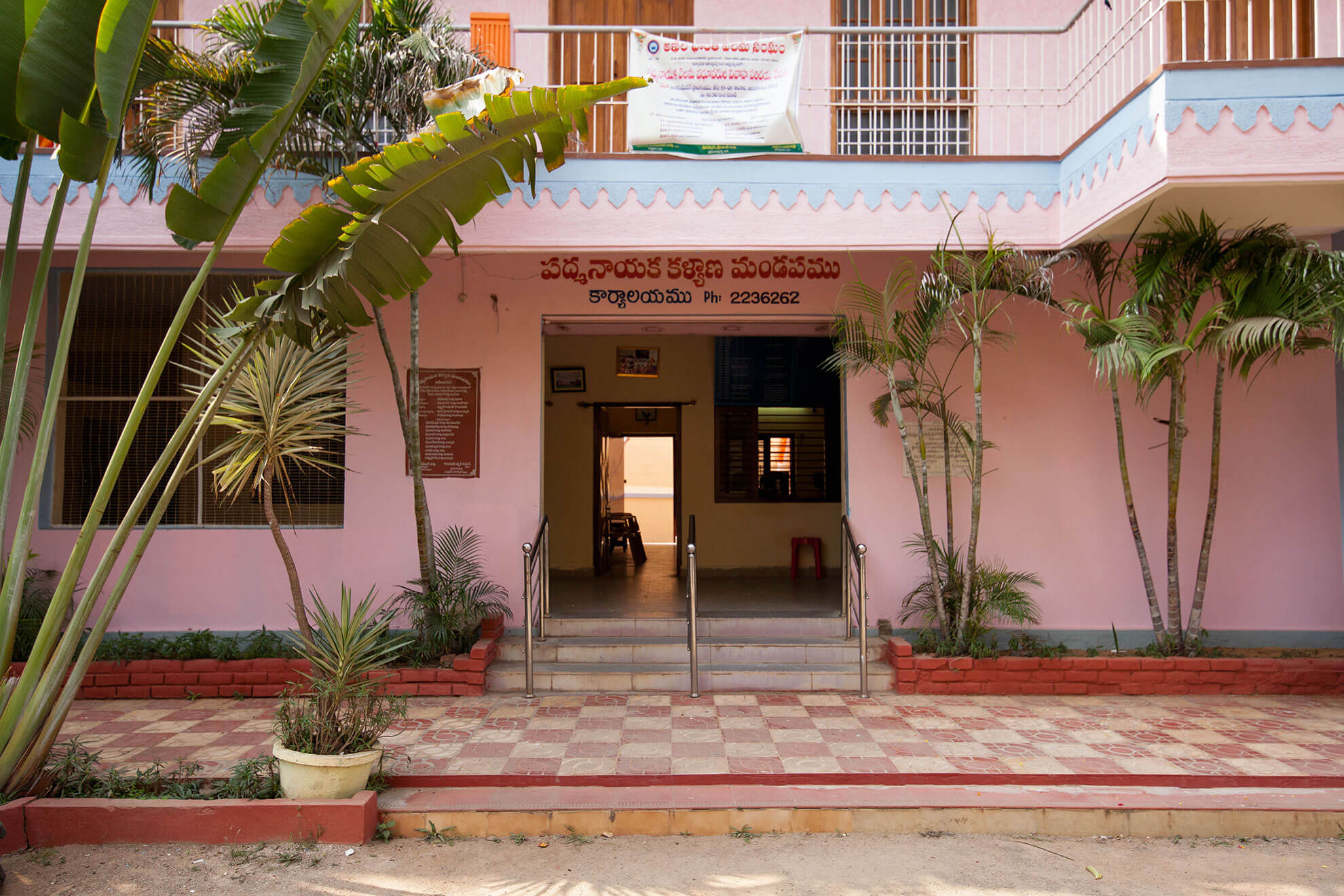 One of the main buildings at the wedding complex in Karimnagar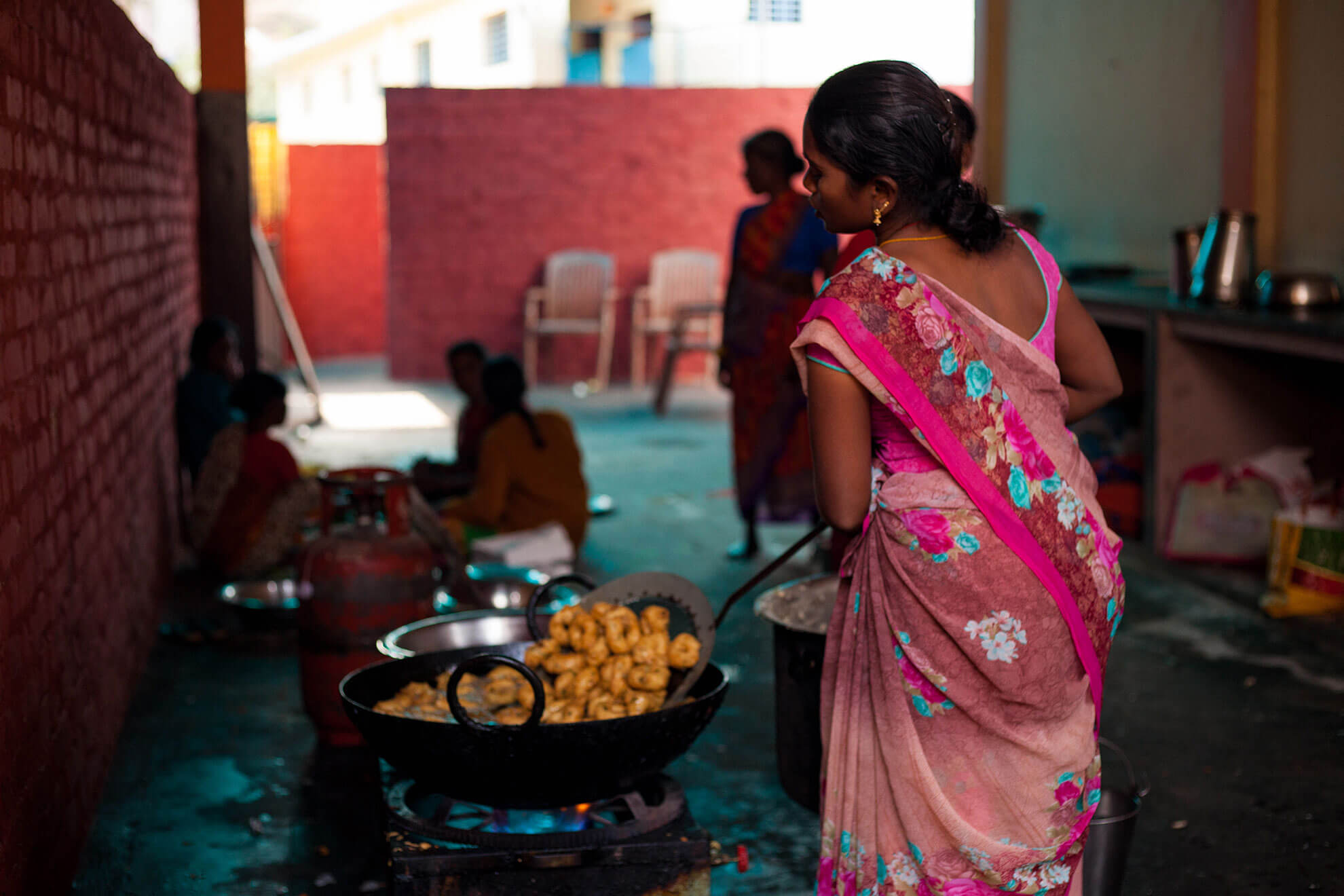 Medhu Vada is a common breakfast food found in south India, made fried lentils, making for a wonderfully delicious start to the day.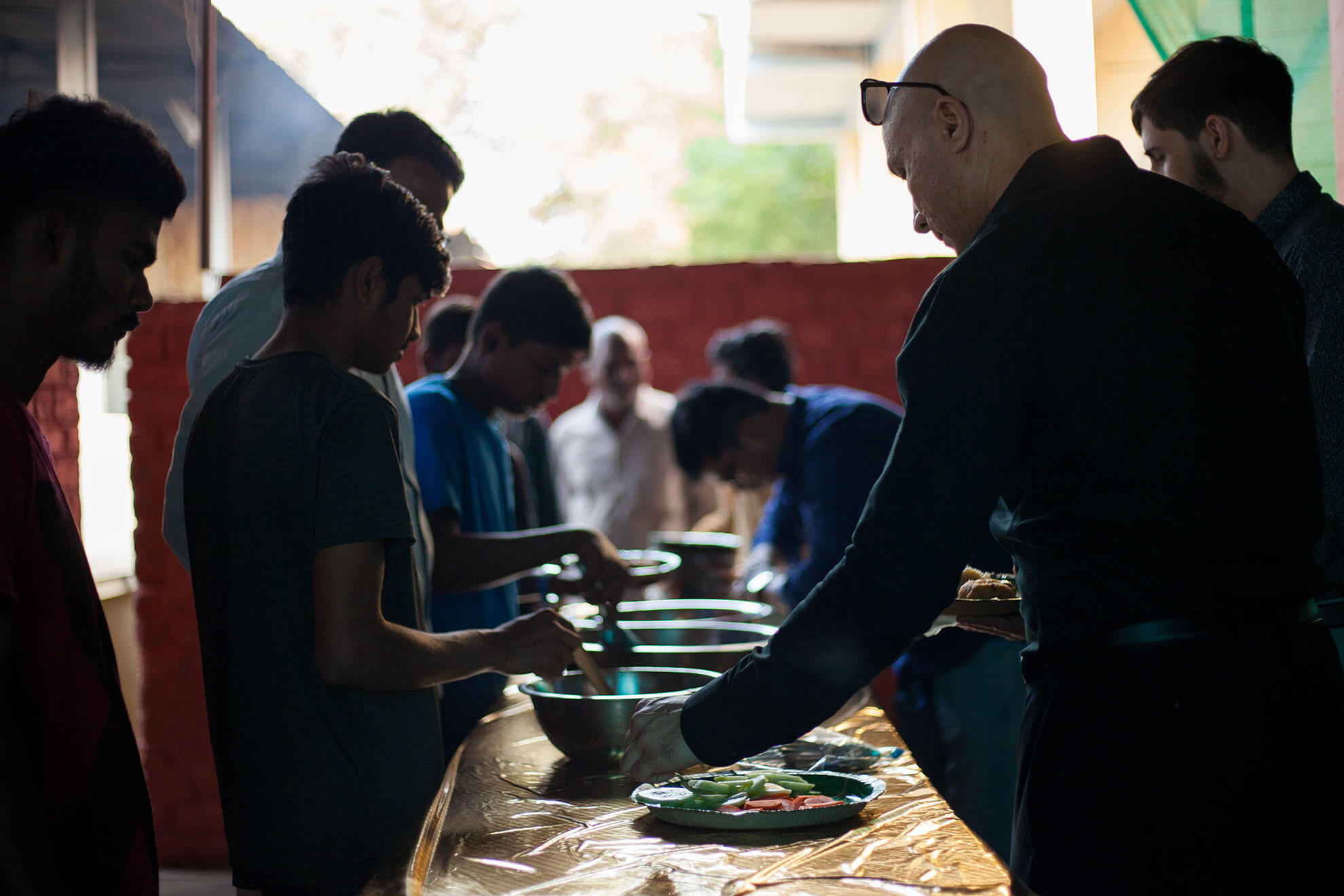 Fred and his son enjoy a fresh breakfast of Vada, Idli, and Upma before beginning their long day of work.
Even before any guests had arrived, there were plenty of locals helping food. Women sat together and cooked select dishes together while a group of boys sat on the ground and peeled vegetables. Standing in the middle of all of this felt surreal but intimate. I was there for my friend, but I was a stranger. Even so, I was welcomed like family and many of the boys would walk up to me staring, asking for "Selfie". Fred and I had a few Chai teas to get the brain working and we started looking for places to shoot.
As the main family began arriving around 9:00 AM, Fred started taking various group shots and I mainly watched, still in awe of the facility, the decorations, colors, and the breakfast I had just eaten. Everyone seemed to know everyone and there was a lot of light giggling followed by loud laughing.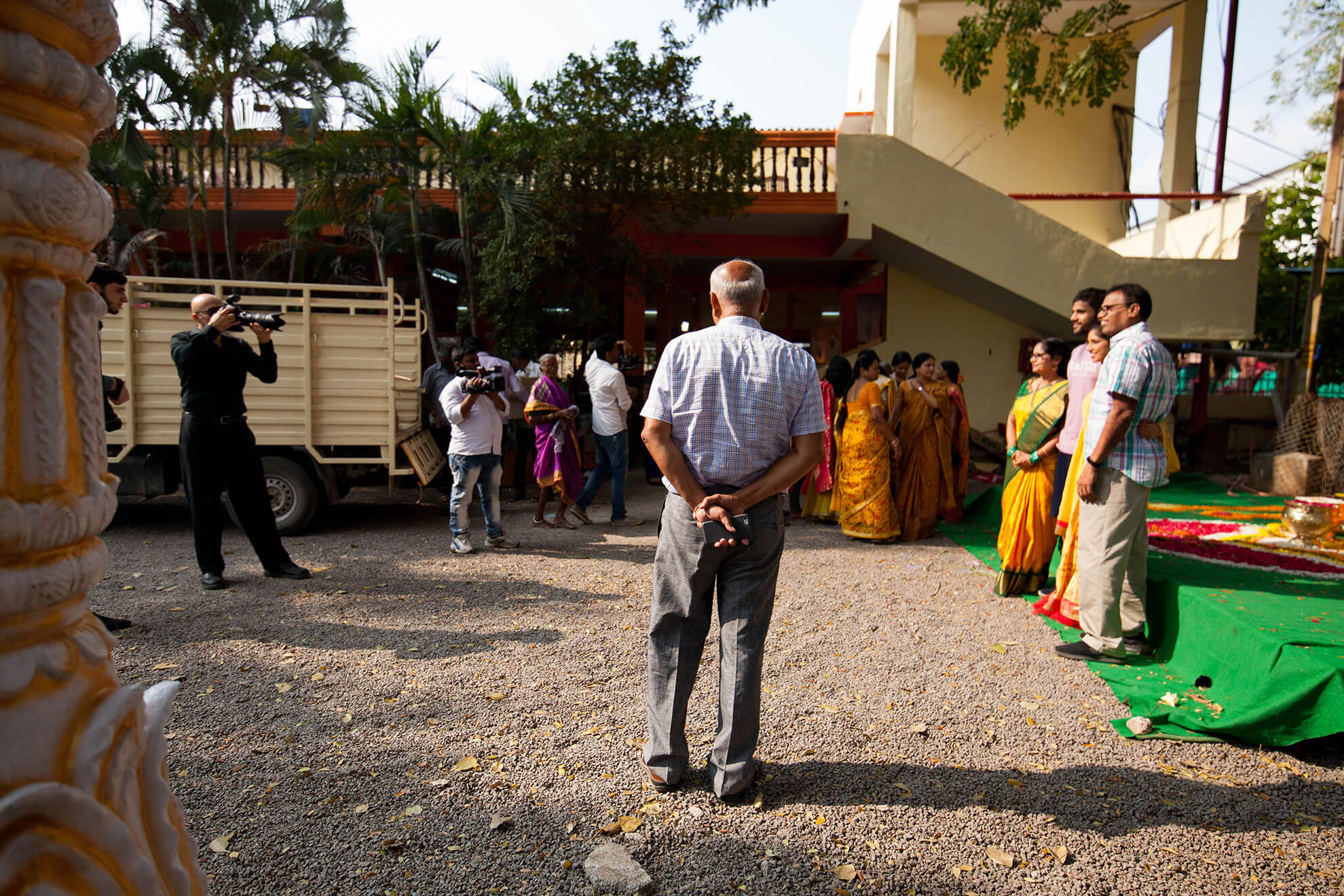 Rishi and his family (Mother, Rishi, Sister, and father) pose for candid photos before getting dressed in traditional attire. Behind them is the location for the Abhyangana Snānam or bath.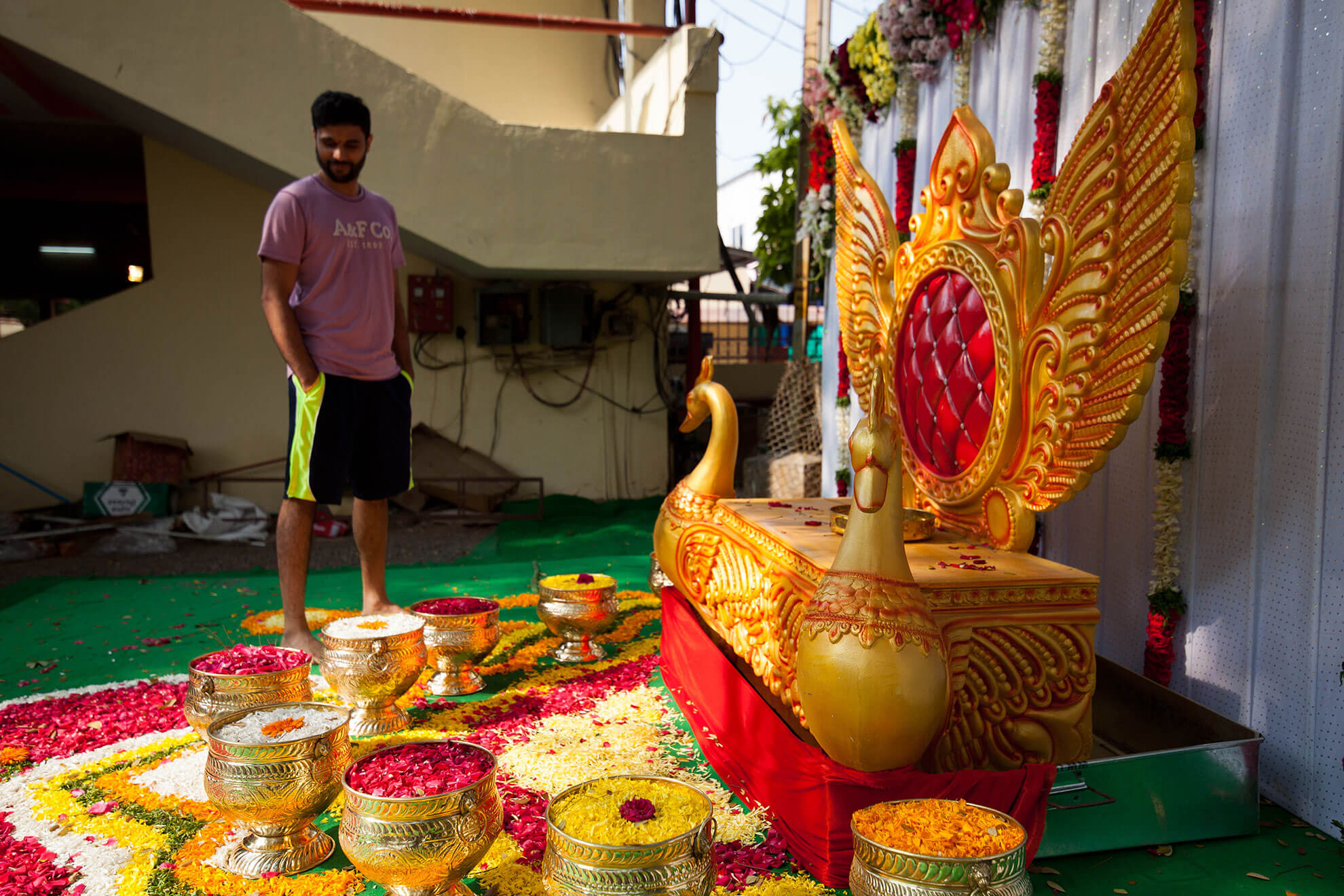 Hours before things begin, a group of artisans lay out the flower decorations. Rishi, prior to putting on his ceremonial clothes, admires their work.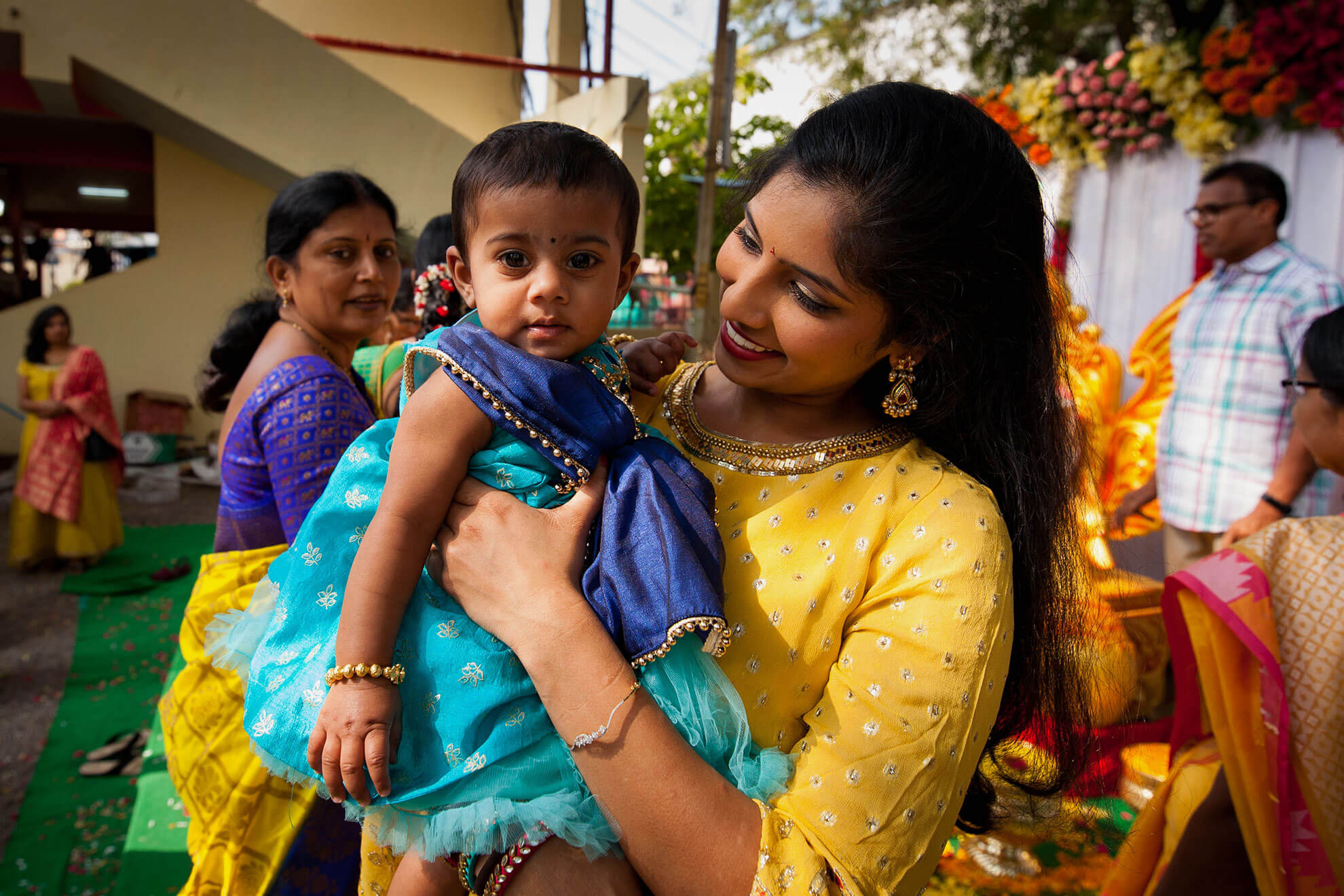 The Mangala Snanam is a pre-wedding ceremony with many individual rituals, however, it's main aim is to purify the couple and prepare them for the following days sacred rituals. While a traditional Telugu wedding would last up to 16 days, this wedding only lasts around five. Another aspect of a Telugu wedding – and most Indian weddings – is that they are very family oriented. There is a Telugu saying that "Marriage is supposed to be a family union and not an individual formality."
The Mangala Snanam begins with droning music played by local musicians. Rishi sits on a golden thrown of swans on a stage decorated with flower petals and brass jars of water topped with more flower petals.
Also sitting with Rishi, is his cousin (referred to as brother as he is the son of Rishi's uncle). His cousin-brother is dressed alike and goes through the same motions. All of the women line up and apply Kumkuma powder to both of their foreheads.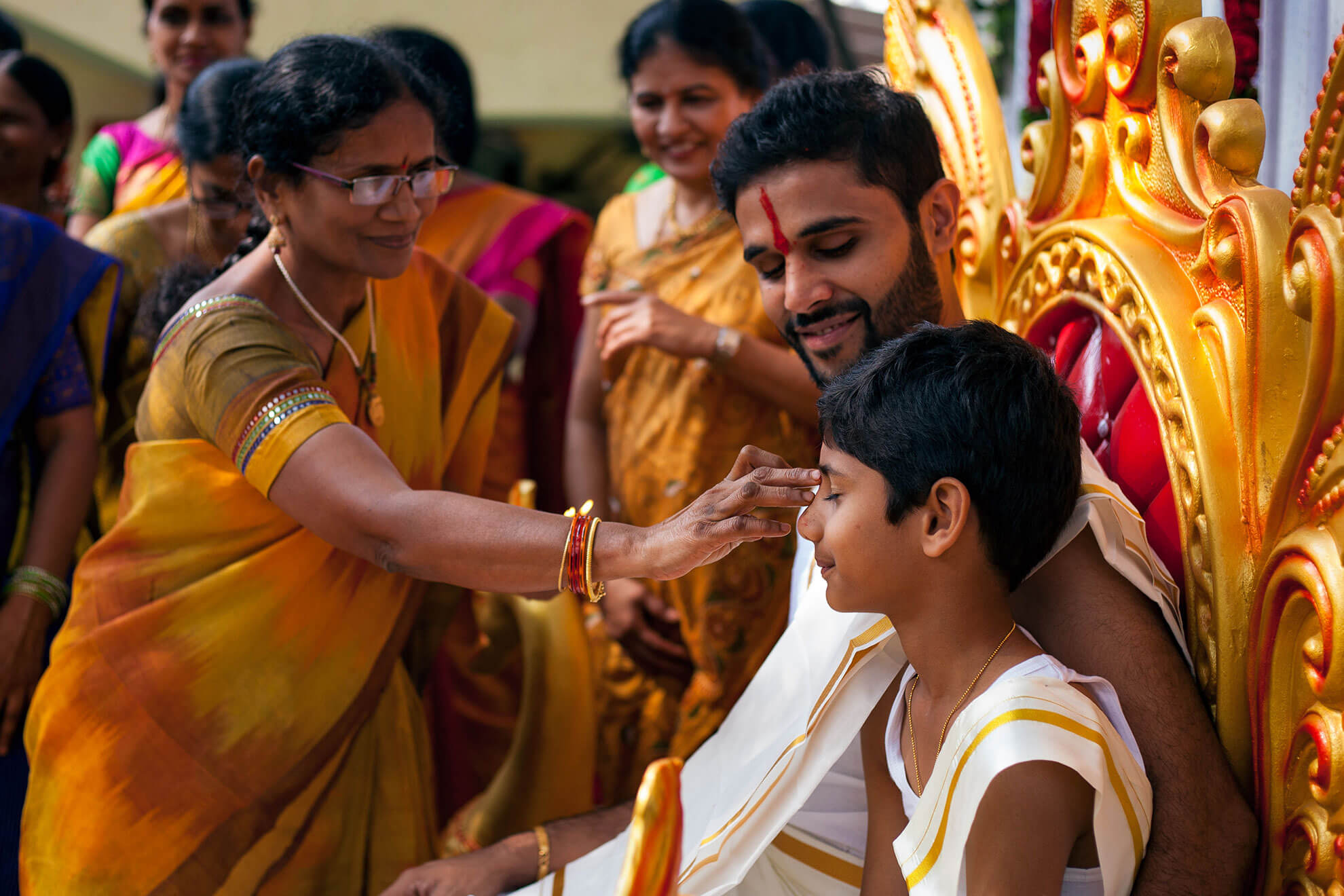 Rishi's cousin-brother has Kumkuma powder applied to his forehead by a family member. 
Eventually comes the cleansing bath. The women take brass jars filled with water and in unison soak Rishi and his Cousin-Brother. At this point, I was sweating from the warm sun and moving around in blue jeans and I was really hoping they might have one left over jar of water for me. After the initial splash, again, the women took turns pouring water over the heads of the boys, filtered through flowers and turmeric.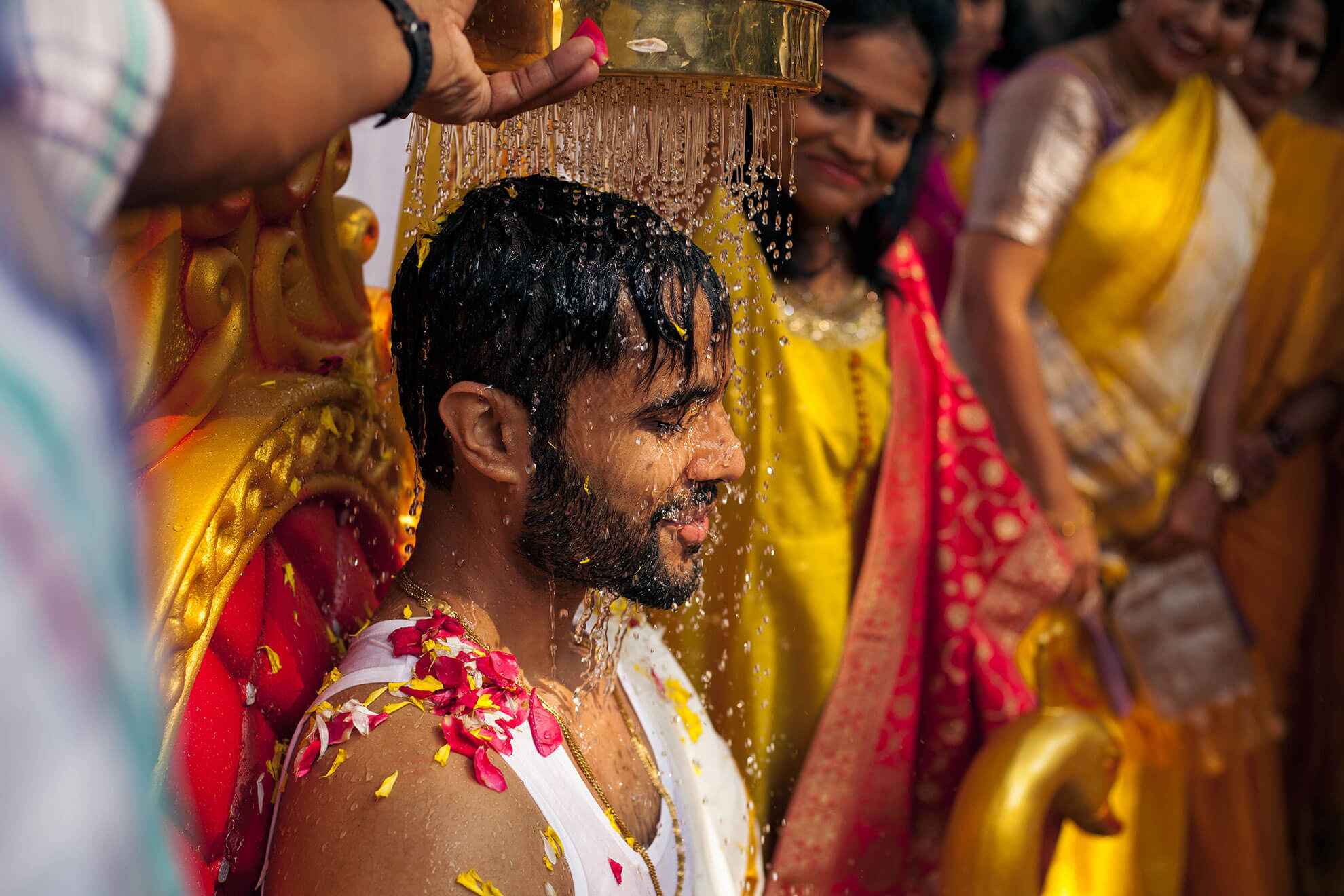 Cool water poured through a filter of turmeric soaks Rishi during the Abhyangana Snānam. Temperatures during the early year in southern Indian can still peak 90 degrees Fahrenheit, so a bath such as this can be quite refreshing.
After the purification bath is over, I was told that we weren't even halfway through. After an outfit change, the ceremonies would reconvene on the main stage, which sat in front of theater-style seating. By this time, those seats were beginning to fill.
Growing up in a Catholic Church, I was quite used to ritualism but what I saw that day made Sunday mass look like kindergarten compared to a Havard grad student. I lost track of the amount of rituals and their meaning and got caught up in simply observing it all. It was all so beautiful and joyous like a celebration should probably feel.
On the stage sat a few Hindu priests for at least an hour or two, they recited prayer and word in Sanskrit, while offerings and ceremonies continued. One thing that stood out for me was that the men and the women sat separately from each other. The men on one side of the room, split by a middle aisle way, and the women in the other. The thing that grabbed most of my attention was that the women were all adorned in brilliant, vibrant colors of purple and pink and orange and their side of the seating seemed to glow. One of my favorites photos I've taken came from this.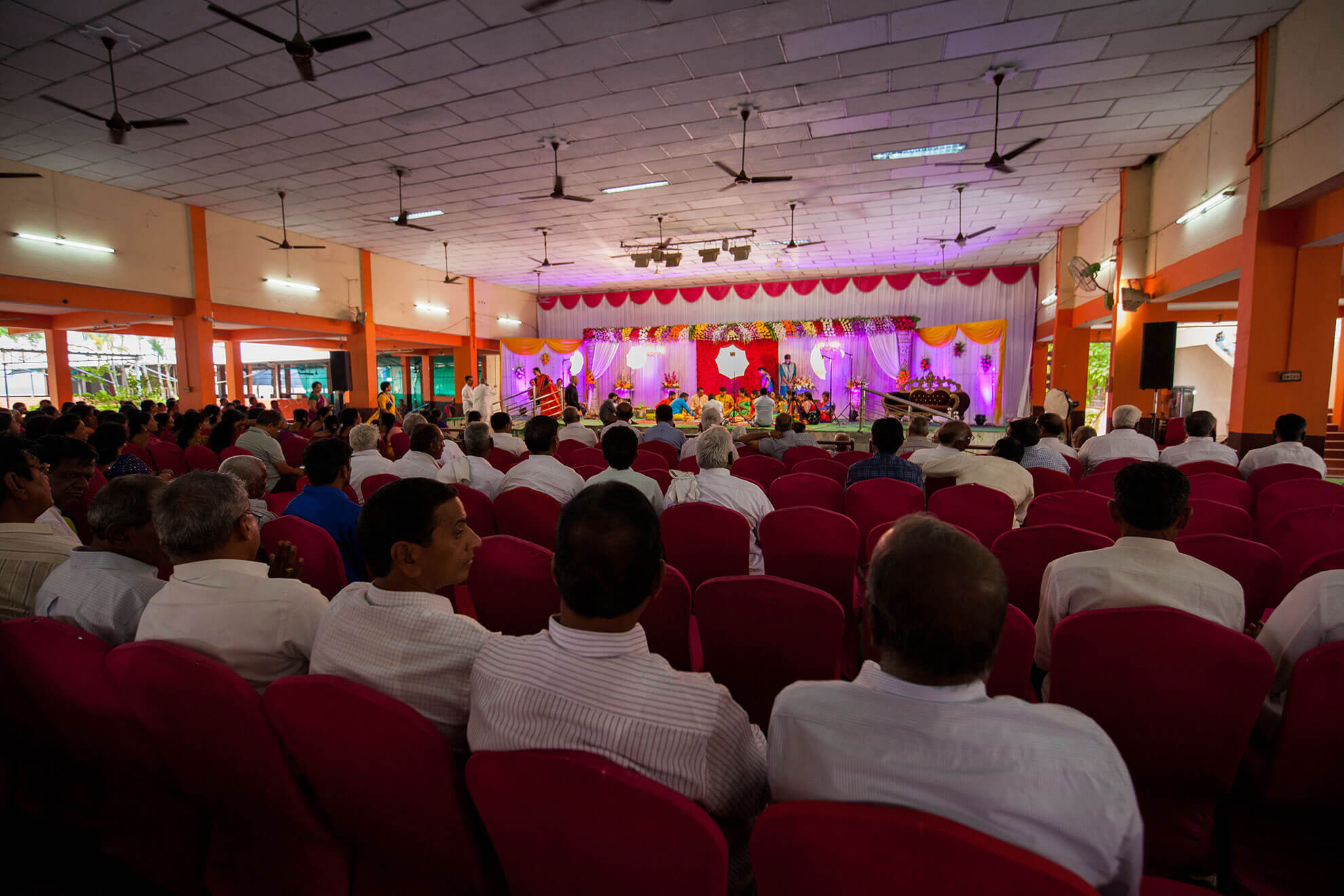 The wedding ceremony complex is open air, but the breeze and fans helped keep things cool. Here from behind the first block of family and friends, the stage is colorful, bright, and busy.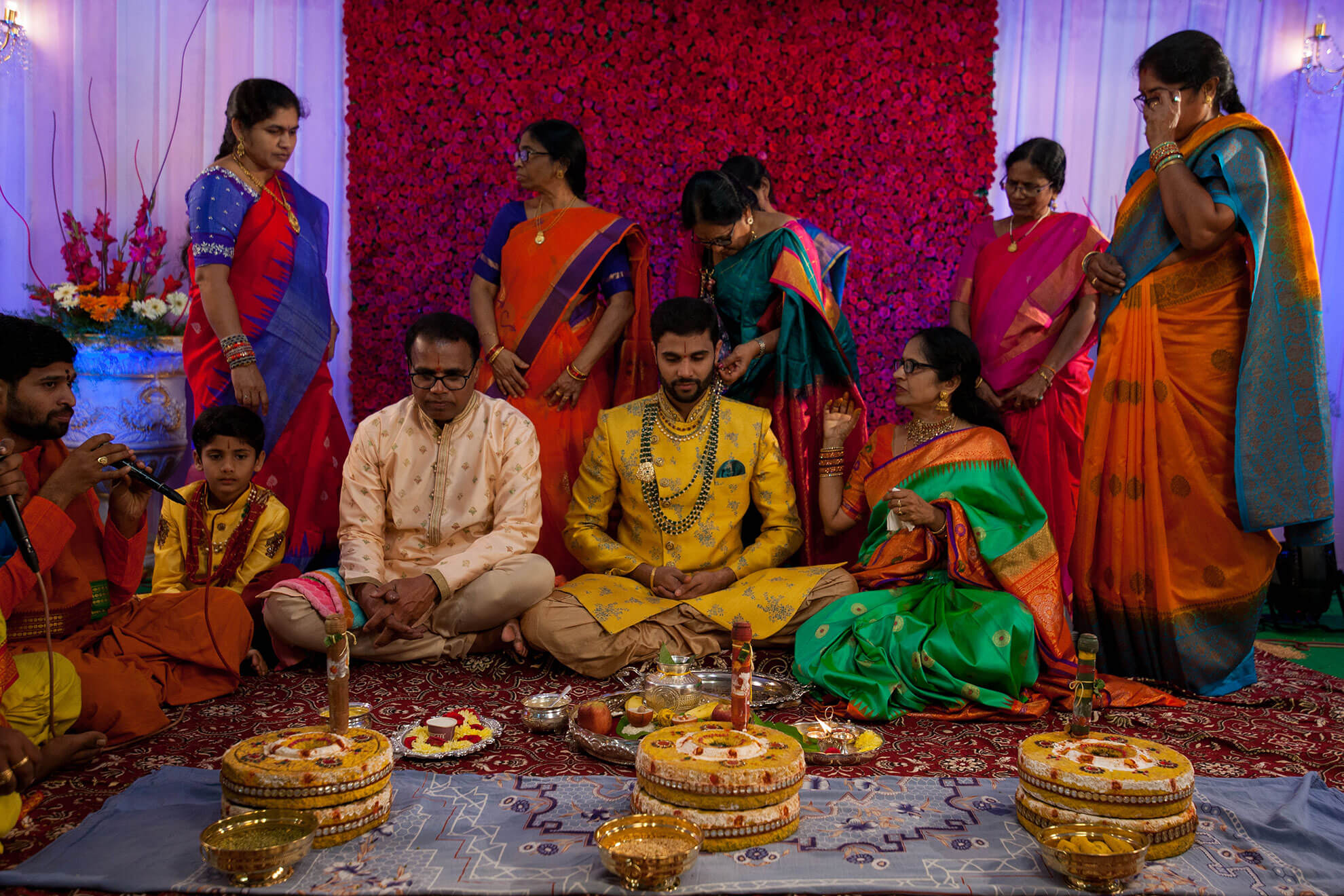 Further ceremonies are performed in Sanskrit by a pair of priests, who chant Hindu scriptures in Sanskrit.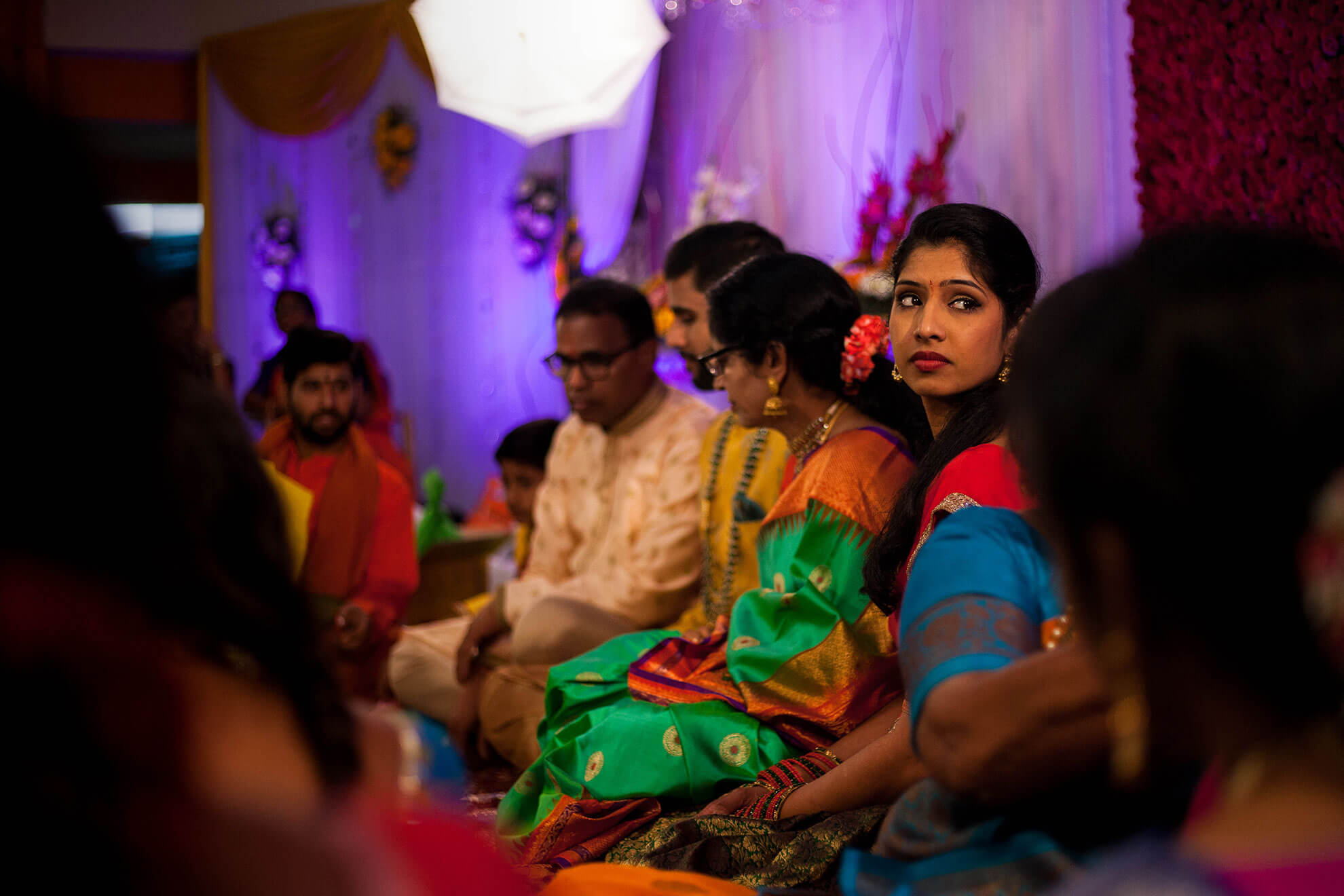 Individual ceremonies may last up to or over an hour-long, so sitting down is for extended periods of time is quite common. Here, Rishi's sister Muvva takes a mental break during the Maṅgaḷa Snānaṃ.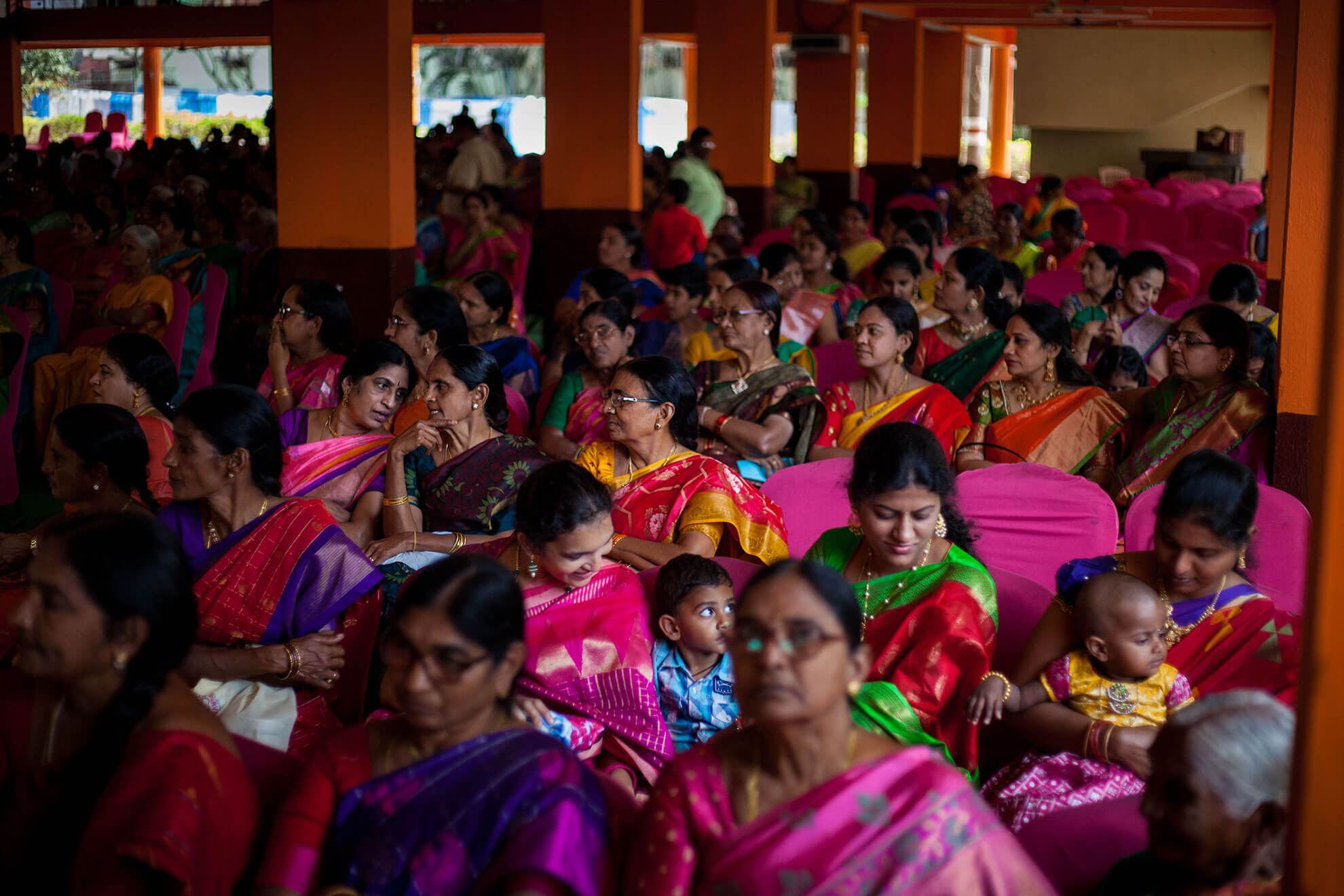 Dressed in their traditional, vibrant, and colorful attire, women talk with each other while the ceremonies press on. The seating at the wedding complex for the Maṅgaḷa Snānaṃ is separated down the middle. Culturally, men sit on one side while women and children on the other. 
Day 3: The Reception
Although typically after the wedding, the reception of a Telugu wedding can take place at any time, or so I am told. In this case, the reception was at Fort Grand, or as I told everyone, a James Bond-like red carpet premier, at a castle. Asymmetrical square adorned with red carpet, a fountain at the center, and a stage, like a really big stage with lights hoisted up with cranes.
While I drooled over myself, Rishi, his now wife Meghana, and the close wedding party were rehearsing their dance choreography for later that night. A mix of modern and Bollywood dance, they were dancing exceptionally well, being led by a professional crew of dancers. Meghana ran up to me and introduced me to a friend of hers who came from Nashville to the wedding. She told us we would be dancing later in the evening as well and should team up with the choreographer. The excitement with where I was in the world at that moment, feeling the breeze and seeing the vast Indian hillsides in the distance and the stone of the castle walls, thousands of miles away from home. I was ready to do anything.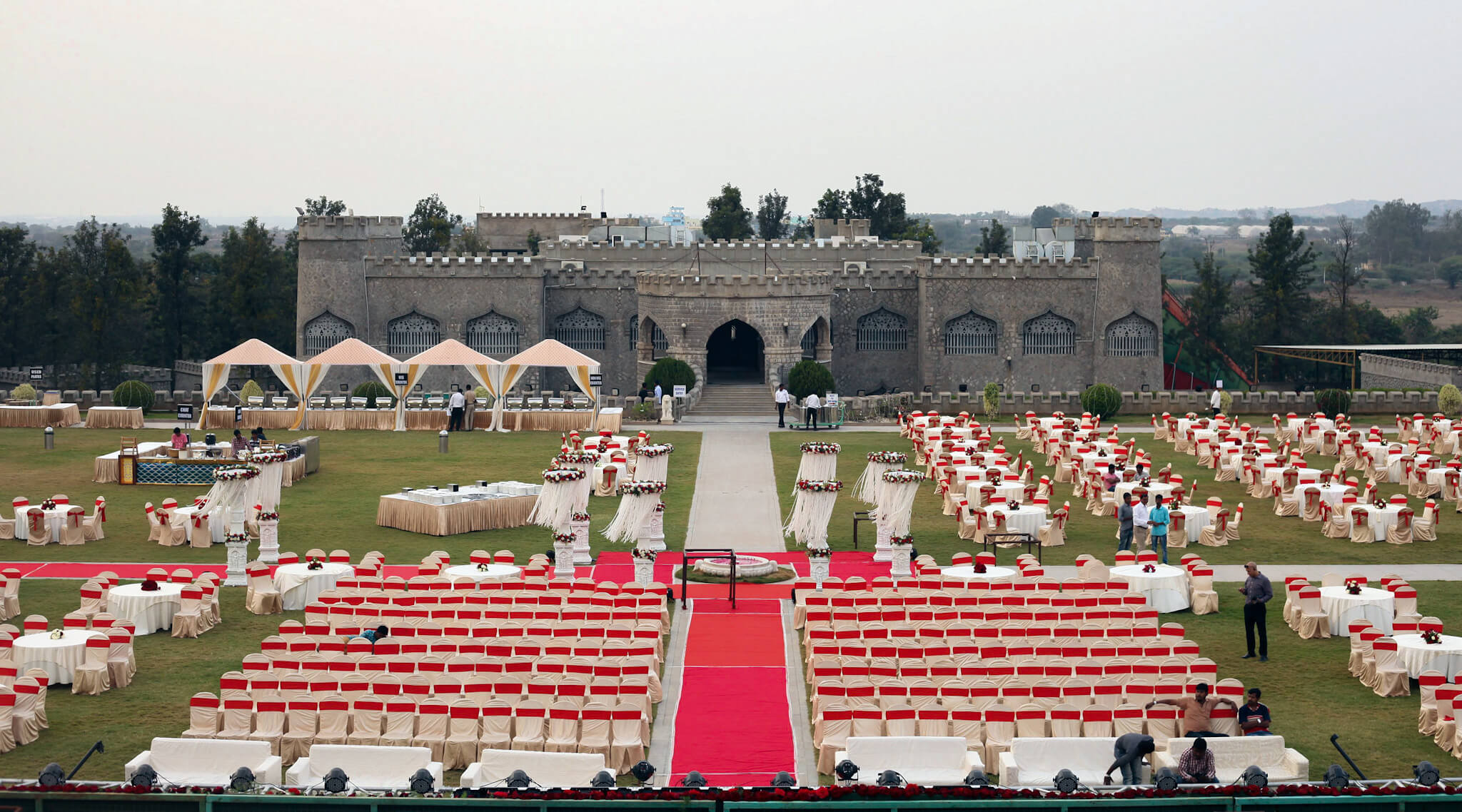 The reception evening was held at Fort Grand. Located 30 minutes outside of the Hyderabad city center, this refurbished fort is well-known wedding venue and event location. What I found interesting was that just next-door to the ancient and luxurious fort, was a water slide park.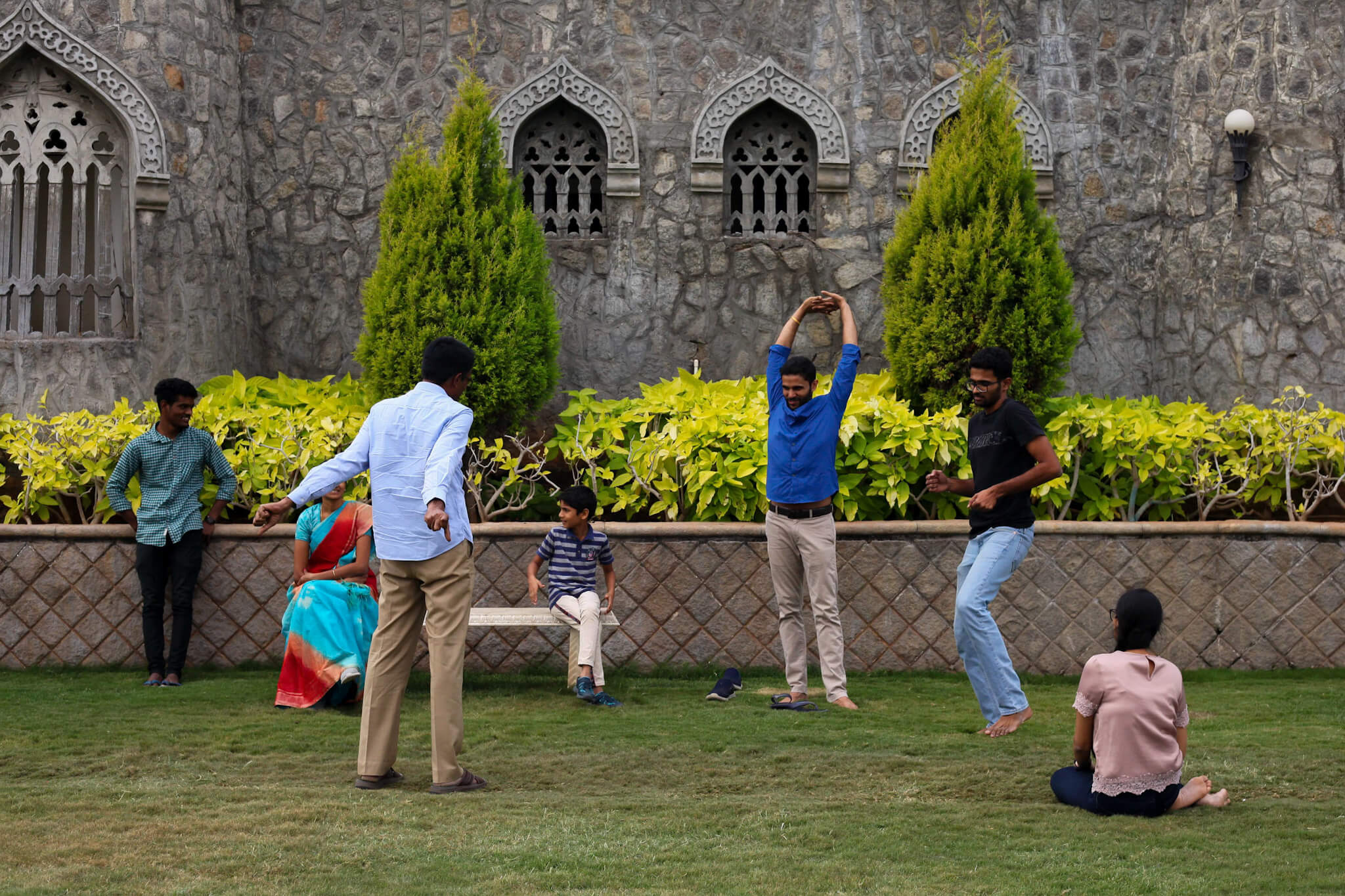 Hours before the reception begins, Rishi and others of the wedding group practice their dance choreography, while the rest of the venue is being set up.
After a few hours of pictures, set-up and a few fingers of scotch, guests began arriving and the sun started to set. The cool air and the warm glow of the lights lining the castle made the setting feel more and more like an Indian movie premiere. Close my eyes, open them again – yeah, it was real.  And because the fort was located some place far from the city, everything just felt surreal and I felt very thankful to caught up in such an indescribable moment.
There was food everywhere: dosas, chaat, the ever worshipped Biryani, rice, curry, fruit and more. Drink was a celebration and there was much celebrating to be done. Towards the end of the night, and I almost was too busy to remember, I had a few enormous portions of dessert. One of which I became very good friends with for the remainder of the ceremonies: Gulab jamun. If you've never had Gulab jamon, its probably available at your nearest Indian restaurant. Gulab jamun is fried, milk-solid based sweet (typically made of Khoya) soaked in a warm sugary syrup. They look like donut holes and are heavenly, as are all Indian sweets and desserts.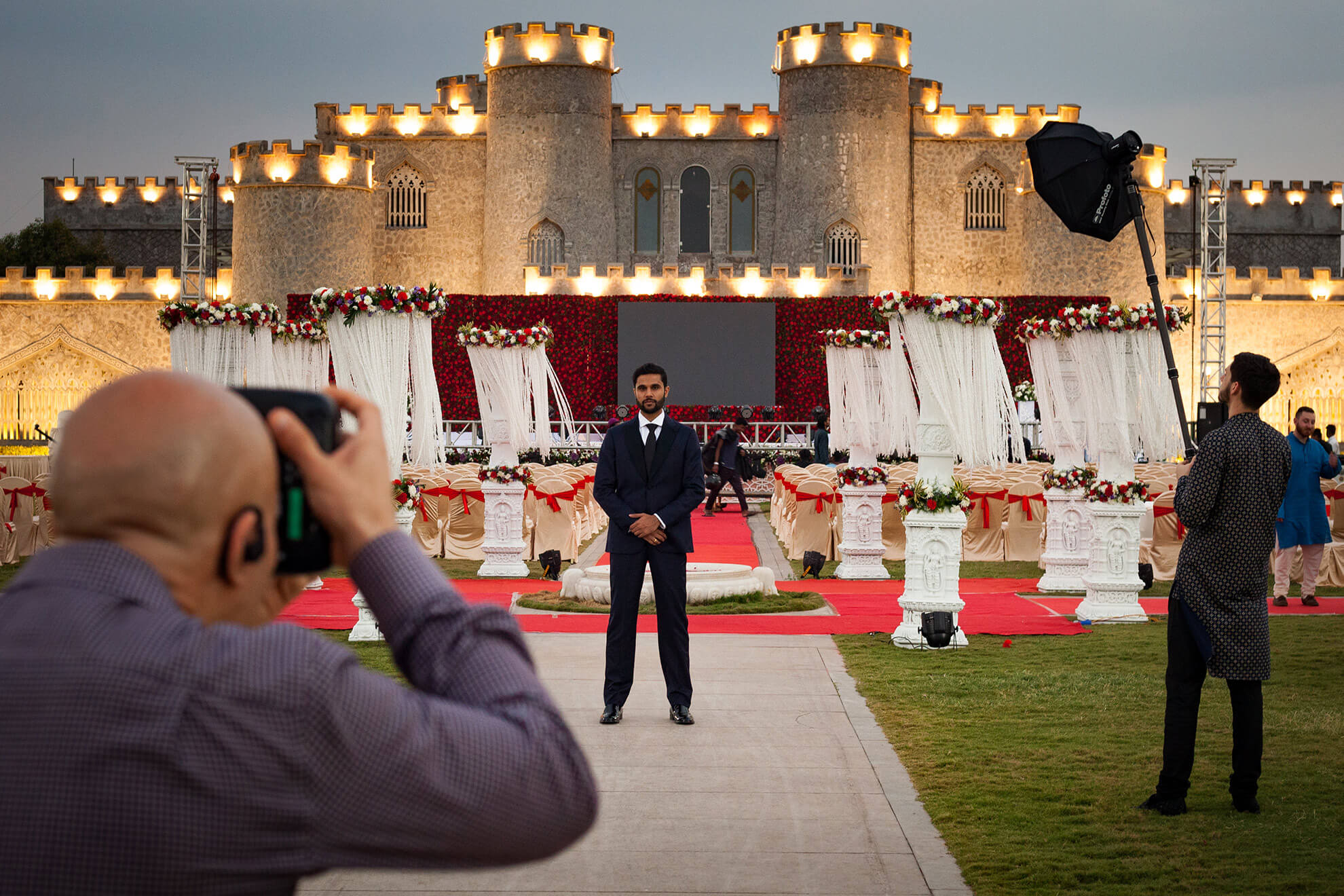 Before the guests arrive, Rishi and close family pose for a few photos before the sunlight fades away.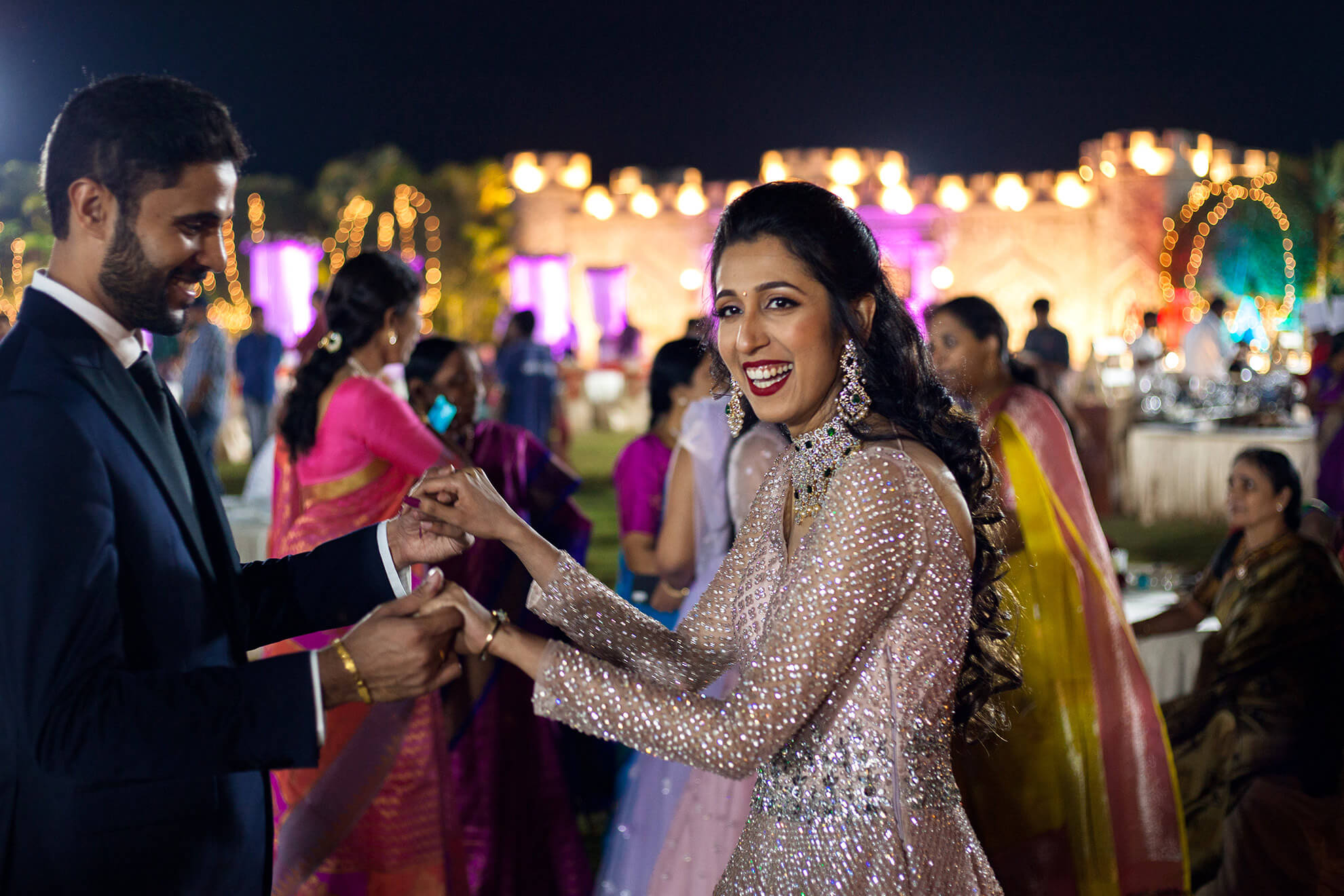 A joyful Meghana enjoys the evening reception talking and enjoying the company of her future husband. As the reception takes place before the actual wedding, the wedding couple is able to spend quite a lot of time with family and friends.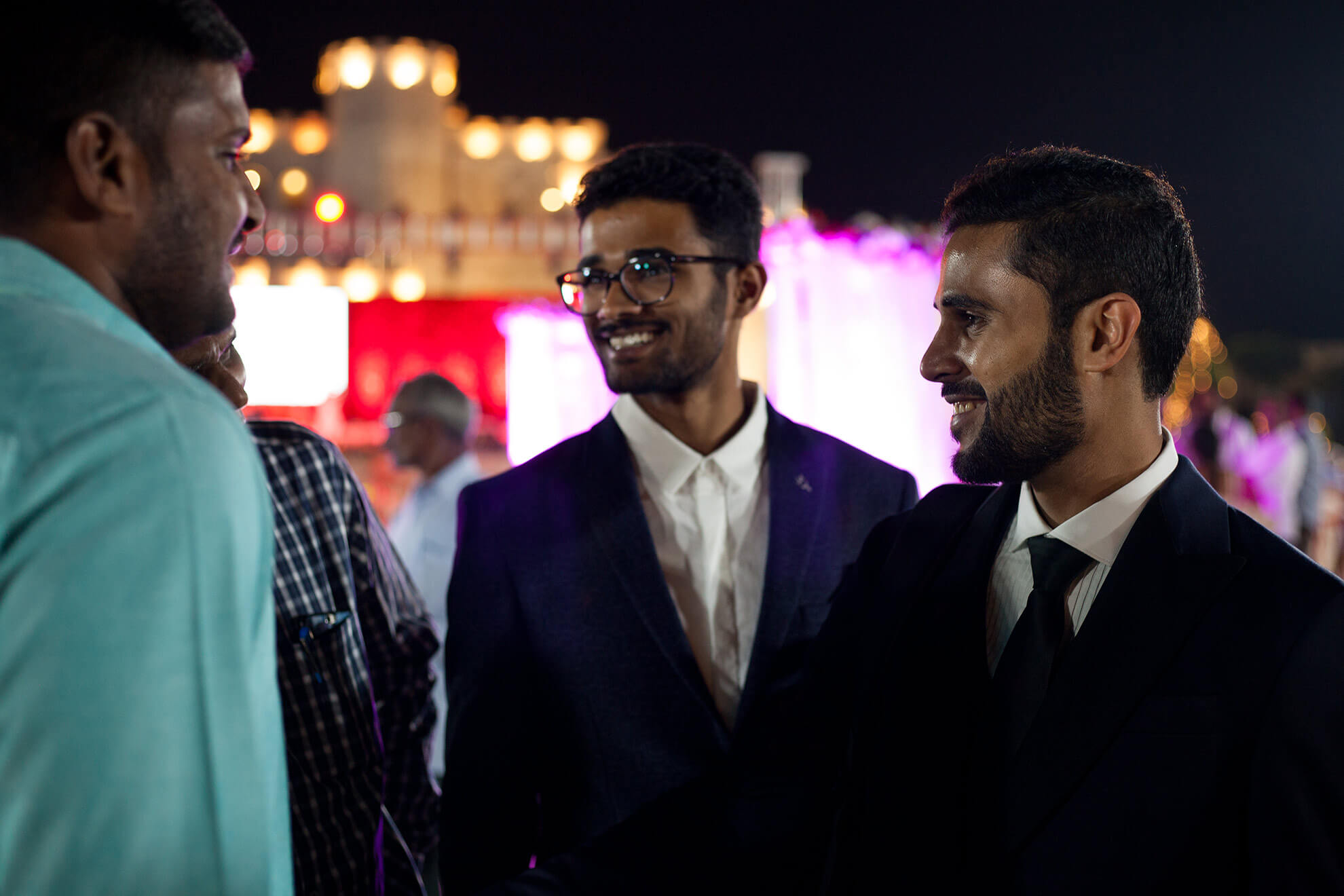 Although I don't know if its tradition or simply a well put together reception, for a few hours, friends and family took turns performing their own choreographed dances. Some danced solo while others danced in a group. Hell, I even danced to a Michael Jackson/Bollywood mashup with the choreographers that helped prepare everyone for their dance routines. I must admit, that even on a stage in front of a thousand-plus people, in a place far from home, I cut some rug and I enjoyed it too.
Overall, the reception goes down in my book as one of the most surreal and enjoyable days of my life. A combination of the unexpected and the ancient, other-worldly location made for a memory that will be something I remember for the rest of my life. The fact that I was able to see it all unravel from outside looking in, dipping my toes in from time to time,  allowed me time to observe and use my senses in a very transparent way.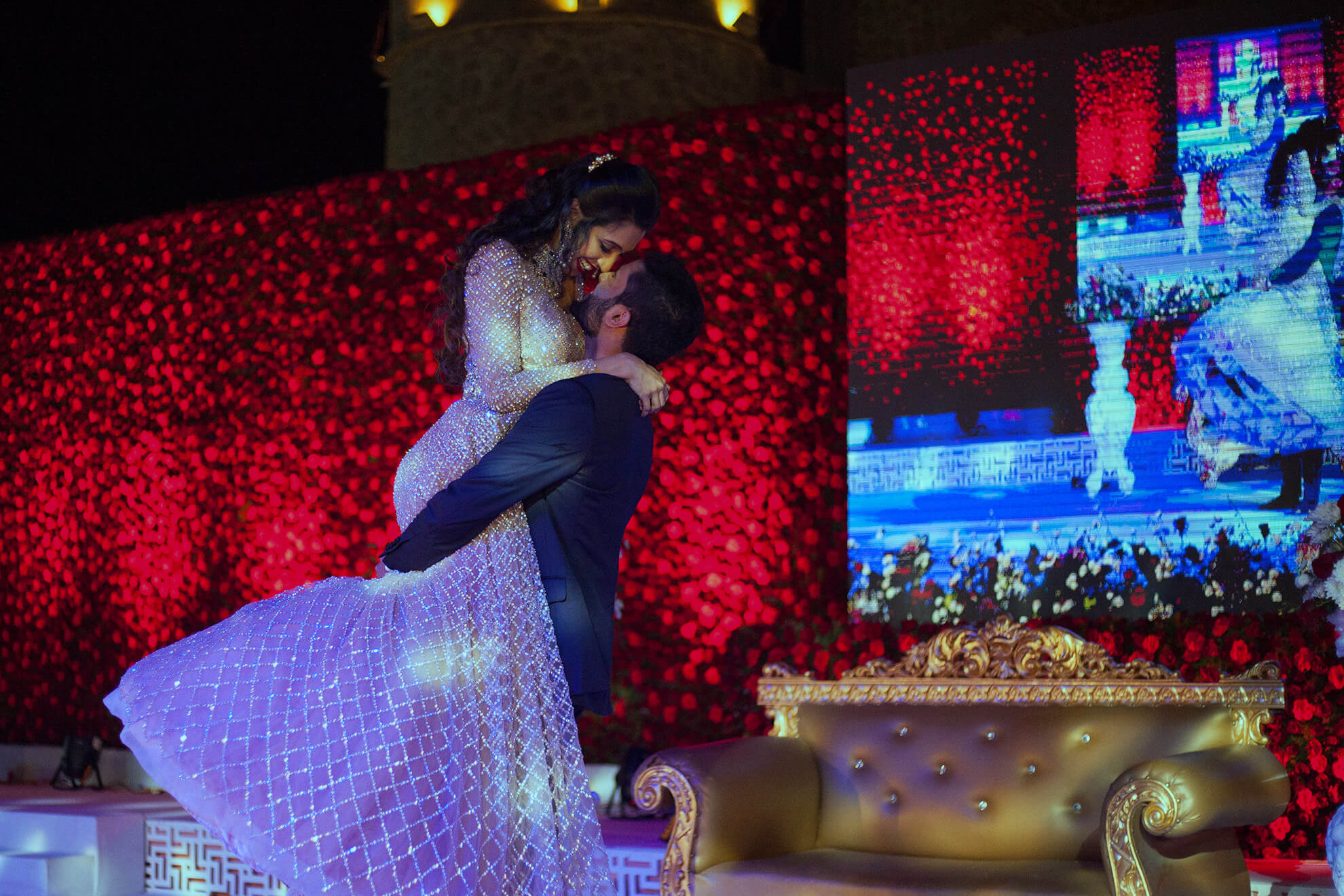 Day 4: Pre-wedding Ceremonies
After the reception, things transitioned back to days filled with ceremony, eating, and the gathering of close family. On day four, Fred, his son, and I headed over to a housing complex to be ready for the early morning ceremonies that would begin. The housing complex is a five-story building that was simple but modern. As with many Indian buildings, the rooftop was open and accessible and filled with plants, a kitchen, and chairs to sit out and enjoy the cool evenings with.
On arrival, we were immediately fed breakfast. This always felt like a loving order, directed by a mother. I gladly accepted and would often – ok, every time – have seconds. Most of the time, I was not always sure who was cooking or even whose house we were in. Our hope that our smiling faces, thank yous and heavy accented Hindi were understood.
After eating quickly on the fifth floor, we hurried downstairs to a lower floor house and I was surprised to see a living room filled with as many people as you could fit in a living room. There were many moments like these, with everyone sit in the living room, where I wasn't exactly sure what was happening. Time would pass and it felt like we were waiting on something or someone perhaps. Yet everyone was always happily occupied, talking to those around them or patiently sitting in silence.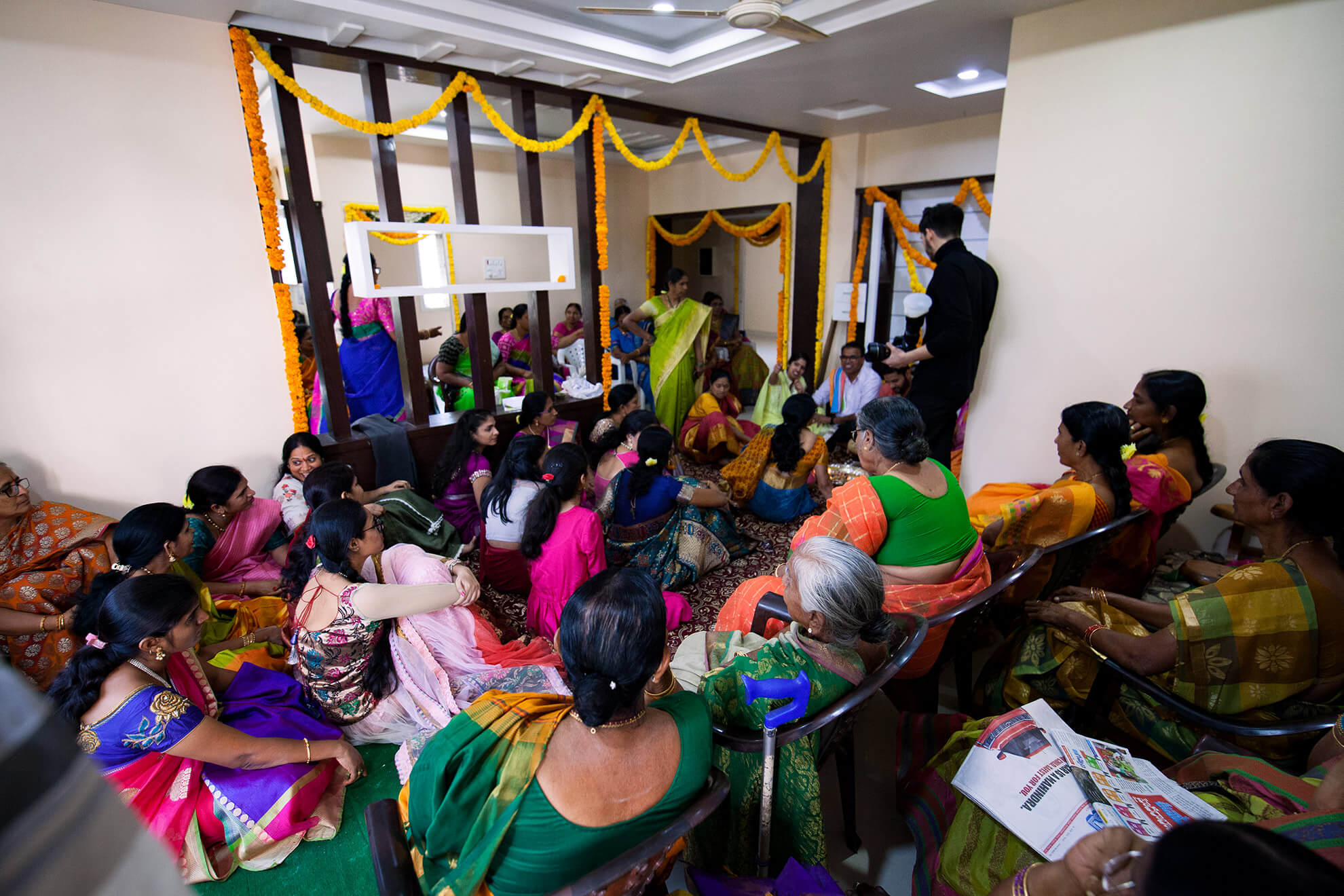 A place where much time took place during the first few days of the wedding was this living room. While it was common to not see a lot of furniture inside homes, space was always being used.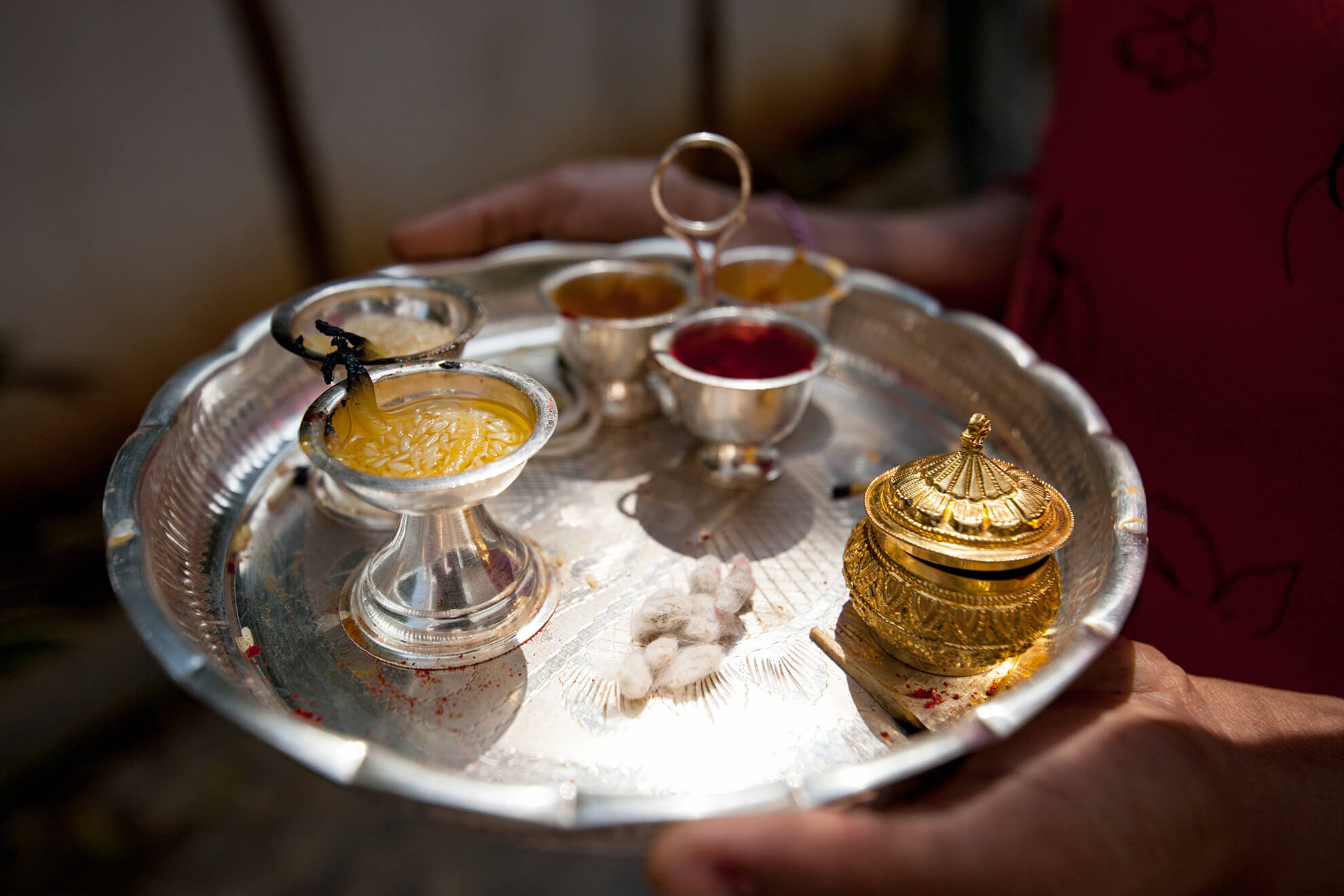 Seen quite often around wedding ceremonies is a silver plater holding various colors of Kumkuma powder and a Deepam lamp, a mixture of rice, ghee, sesame oil, and peanut oil with a wick. The wick is made out of rolled cotton and a seed inside.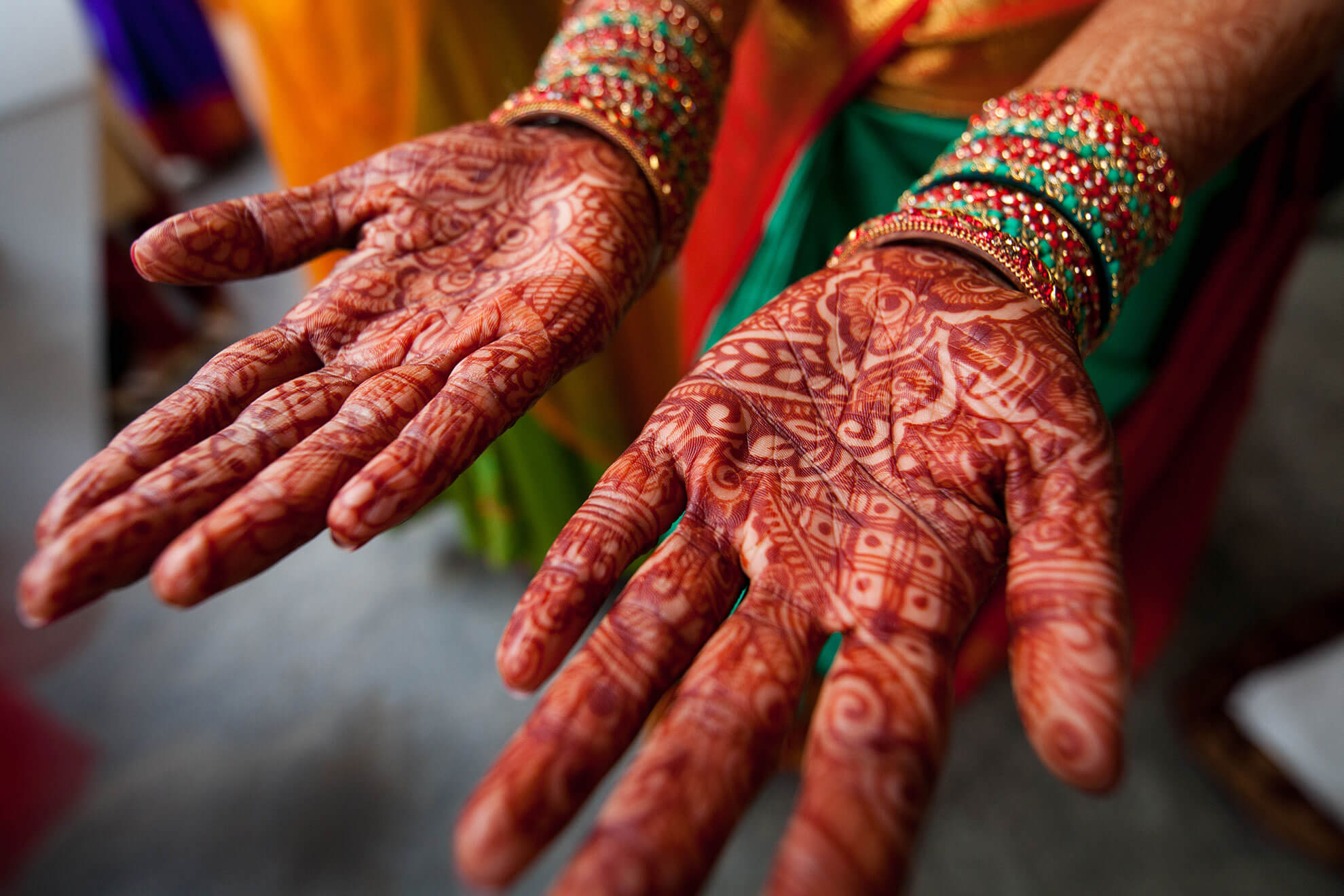 Henna, which is the name of the plant that is crushed up and made into paste is applied during Mehndi.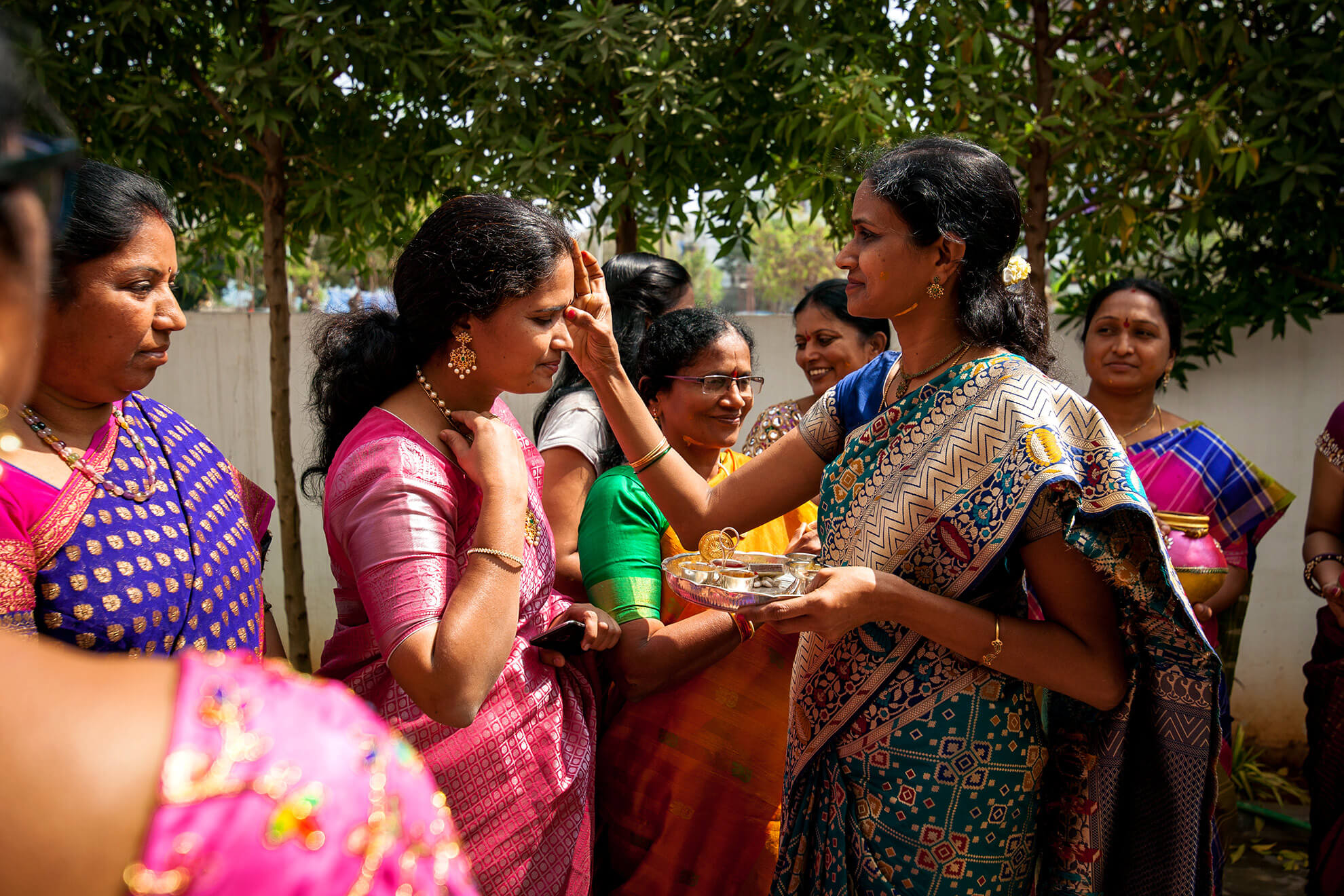 After the initial ceremony and discussions, the women gathered, and in waves, walked down to the nearest source of water, filled ornate pots and applied Kumkuma to each other's foreheads. This happened around three or four times while other portions of the next ceremony were prepared.
During this time, I would run back and forth between the place where they would gather water and the main house where the rest of the family was, trying to stay out of the way taking as many pictures as I could. Everywhere made for an interesting picture.
As someone who has always had a camera with nearby, it was a lot of fun tagging along with fellow photographers talking over photos and getting excited going on midnight photo excursions. Walking down random streets, talking to anyone who wanted to talk, my company was always down to get lost, get sweaty, and explore the surroundings. If there was ever a way to discover the true feeling of what it means to be in another country, wandering around the city (albeit, with common sense) with no true agenda but to maybe feel a little uncomfortable and a little confused, but completely ok with it is how you do it. And it's all about balance. Some times, all that is needed is a book, a local cafe, bar or restaurant, hours to kill and letting go. I've found my greatest rest in those moments.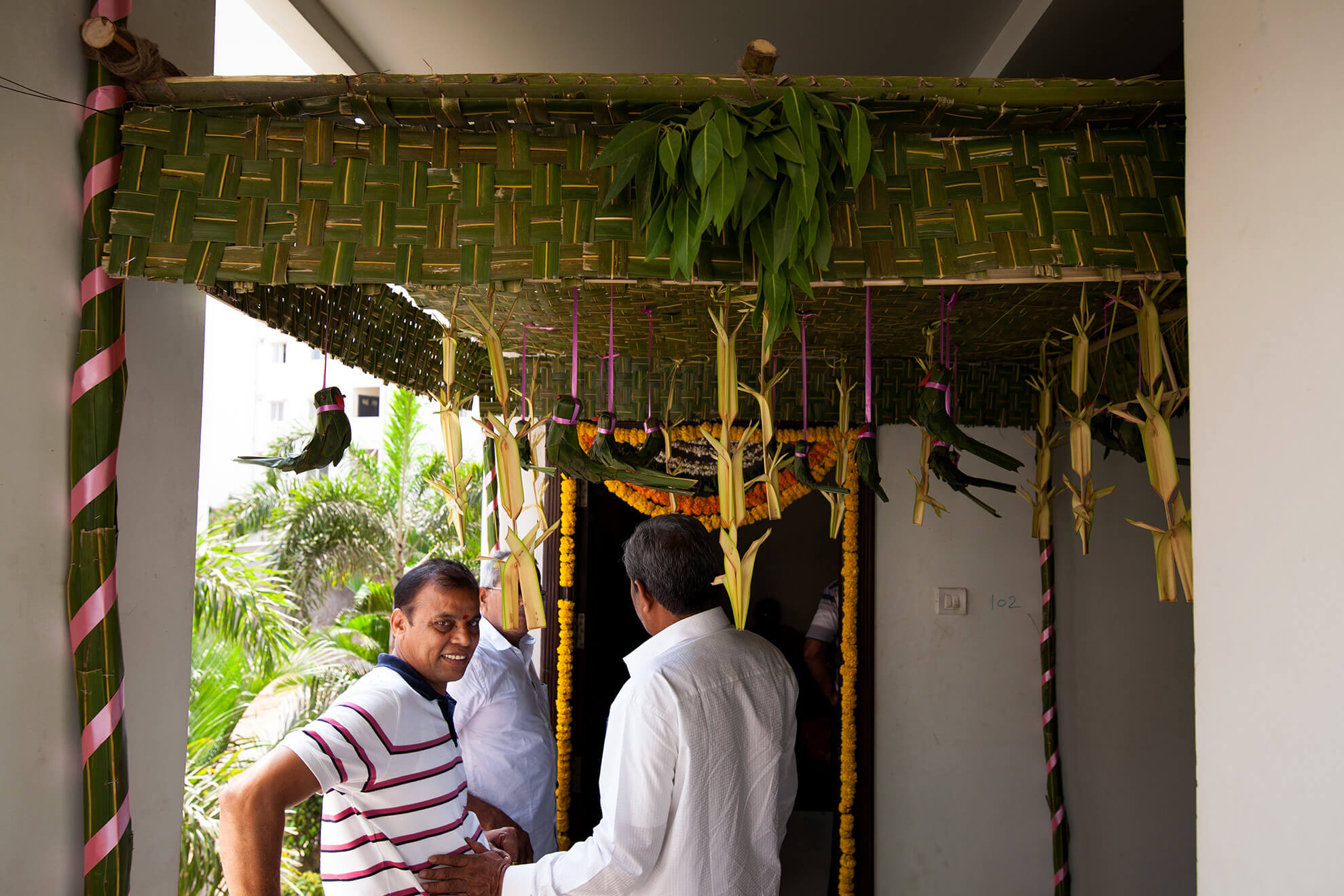 House number 102. Rishi's family stands outside as the house is packed while everyone waits and relaxes during the warm afternoon.
One thing about an Indian wedding is that there is a lot of time. Time to pass, time to wait, time traveling from city to house to venue, and time to simply be with loved ones. It reminded me of visiting my relatives as a young boy and the comfortable, quiet hours of everyone snacking, doing their own things, or catching up with one another. Sometimes after early mornings or late evening celebrating, we needed to rest, so naps were often and chai was a close friend (Especially to Fred and myself, who would habitually ask for seconds).
Even though our days were long and filled with an incredible amount of noise, miles of walking and a lot of sun, staying asleep was not an easy task. I was almost always a little tired but travel and the discovery of a new place can be sobering.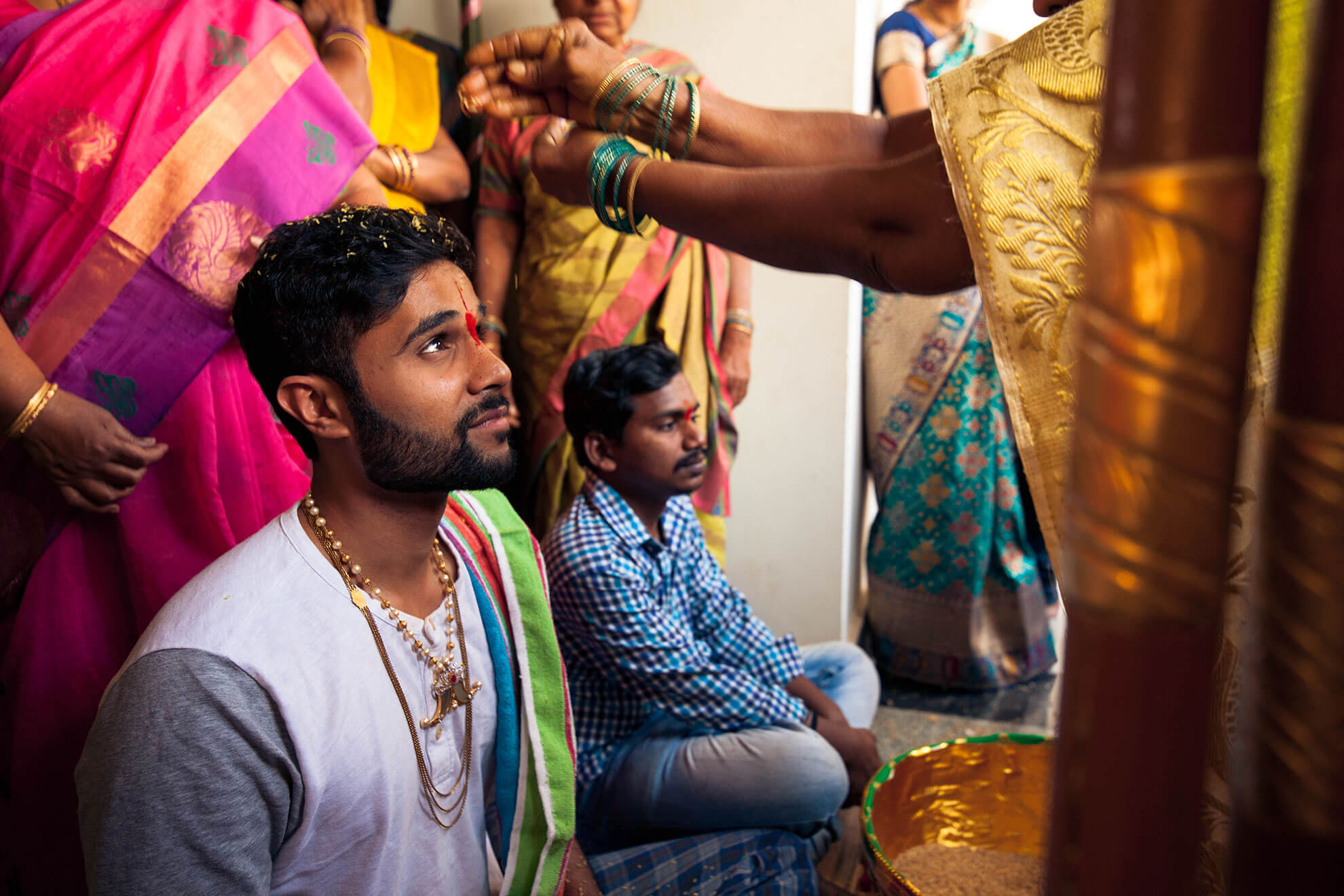 Day 5: Wedding Ceremony
The final day of the wedding began early and a few pre-wedding ceremonies took place as I arrived with the wedding photographers. From the beginning, I was clueless to most of what was happening. And this was ok. I was ok with being a viewer, or to use that terrible T-word which finally fits, a tourist. My job was to attend and experience. All I could do on the final wedding day was bring my camera, plenty of extra batteries and enjoy the ride.
For the final day, many pictures were taken. Throughout the entirety of the wedding, my hope was to tell a visual story, accompanied by words, of what a modern wedding in Indian felt like. The following images, and there are many, don't highlight every single ritual since, but to be honest, I couldn't keep up with them. I wanted to tell the rest of the story however with fewer words.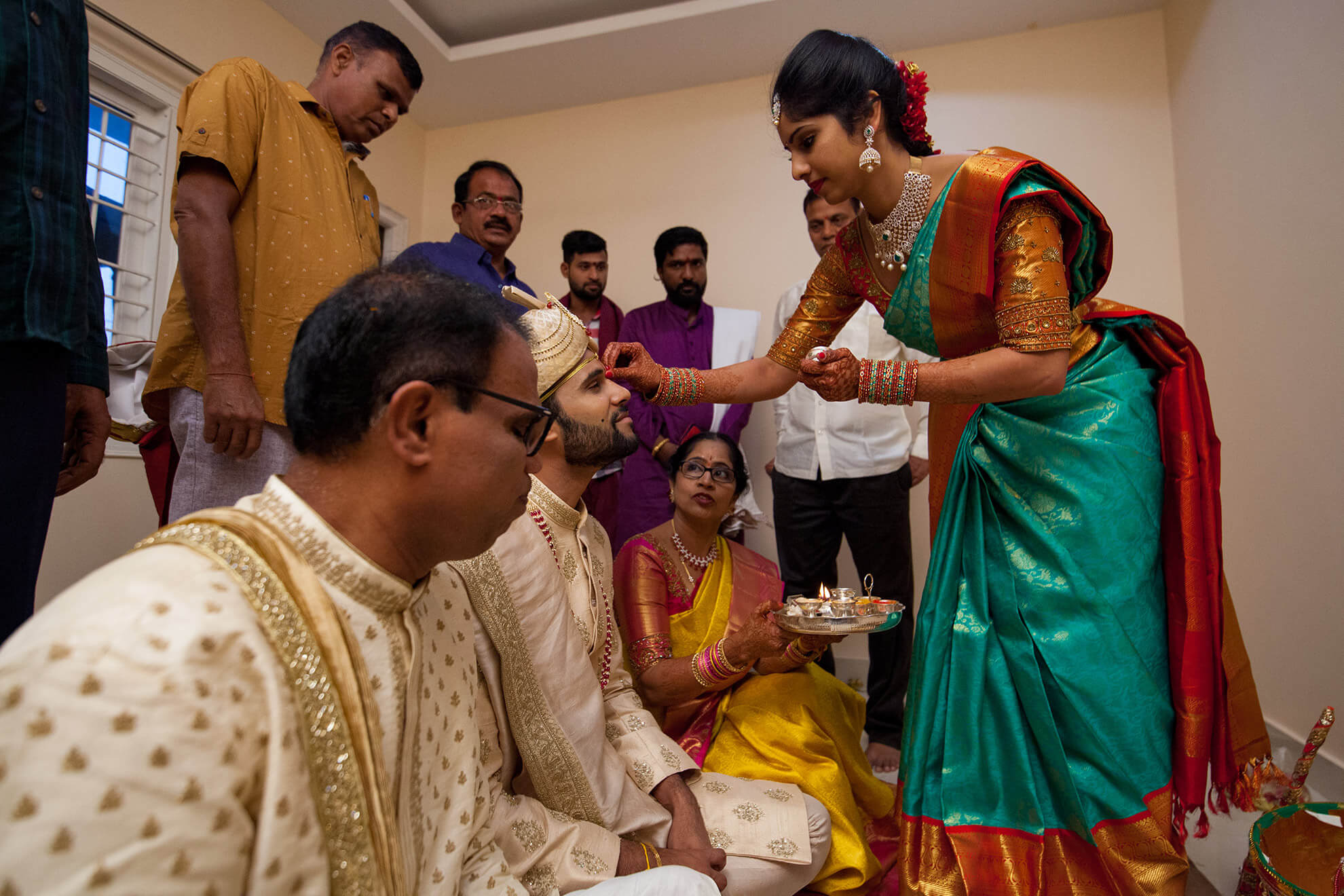 Early morning rituals include Rishi and his family taking turns anointing one another with Kumkuma powder. Here, his sister places a small mark on his forehead, while his mother and father sit at his side.
As we showed up, I remember the sun was just starting to peek and warm up the sky. A three piece band of horn, drum and Shruti box (droning accordion like box) were playing. I've always enjoyed the droning sound of the Shruti box ever since I heard it's sounds from movies on Mount Everest, in Nepal. The drum sounds were fast, very woody and high-pitched for being percussion. The horn player played quick melodies and together, the entire trio set a cinematic tone over the morning.
During our down time, I would use the few words of Telugu I had learned over my trip and amuse them with how bad it was. They were kids, probably 16 to 20, but there they were, a few hours from their home on an early morning, setting the mood for Rishi's big day. (I recorded an audio clipping from that morning that you can listen to on the right)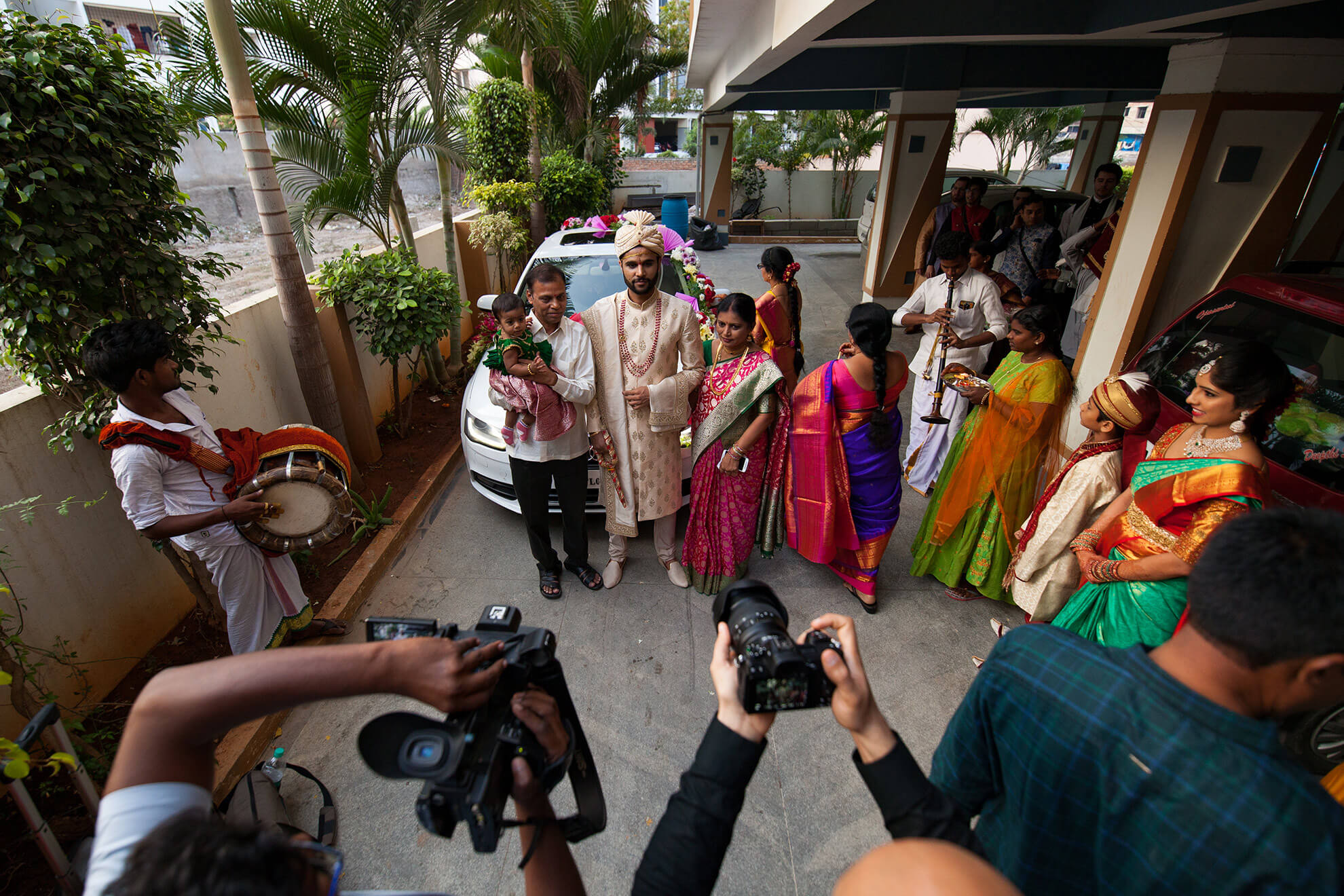 Rishi poses for photos with family before being sent off to the wedding complex.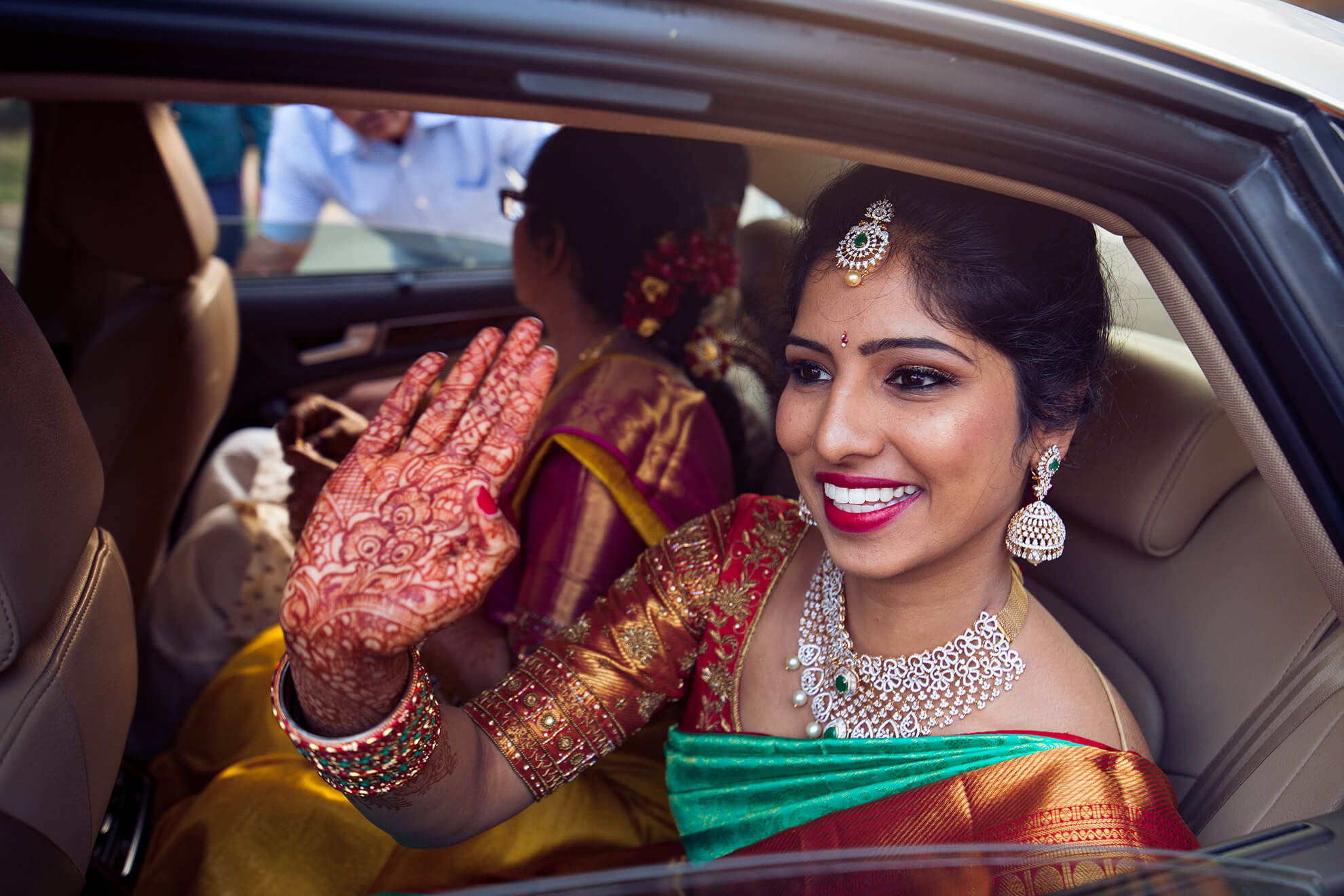 The Baraat
Very typical in many parts of India is the Baraat, an ornate, and music-filled arrival of the bridegroom. On Rishi's wedding day, about an hour after arriving at the wedding hall, and once again after a hearty breakfast and three or four chais, the wedding began. Outside, on an elegantly decorated horse, Rishi slowly trotted his way towards the entrance to the hall with his father and other close family at his side. Something I found interesting was that Rishi carried a hand made sword that looked like a giant ice pick and would make for quite the self-defense weapon. Leading an ever-growing crowd of people was a group of musicians and dancers and everyone was so very happy.
I love the pictures of the Baraat and wanted to share the different emotions felt via a few varying angles of the procession. Although the lighting was high-noon and harsh, the emotion on Rishi and Ram, Rishi's father, was beautiful to see. The build-up of so much preparation and so many pre-wedding ceremonies finally led up to this and the emotion on everyone was tangible.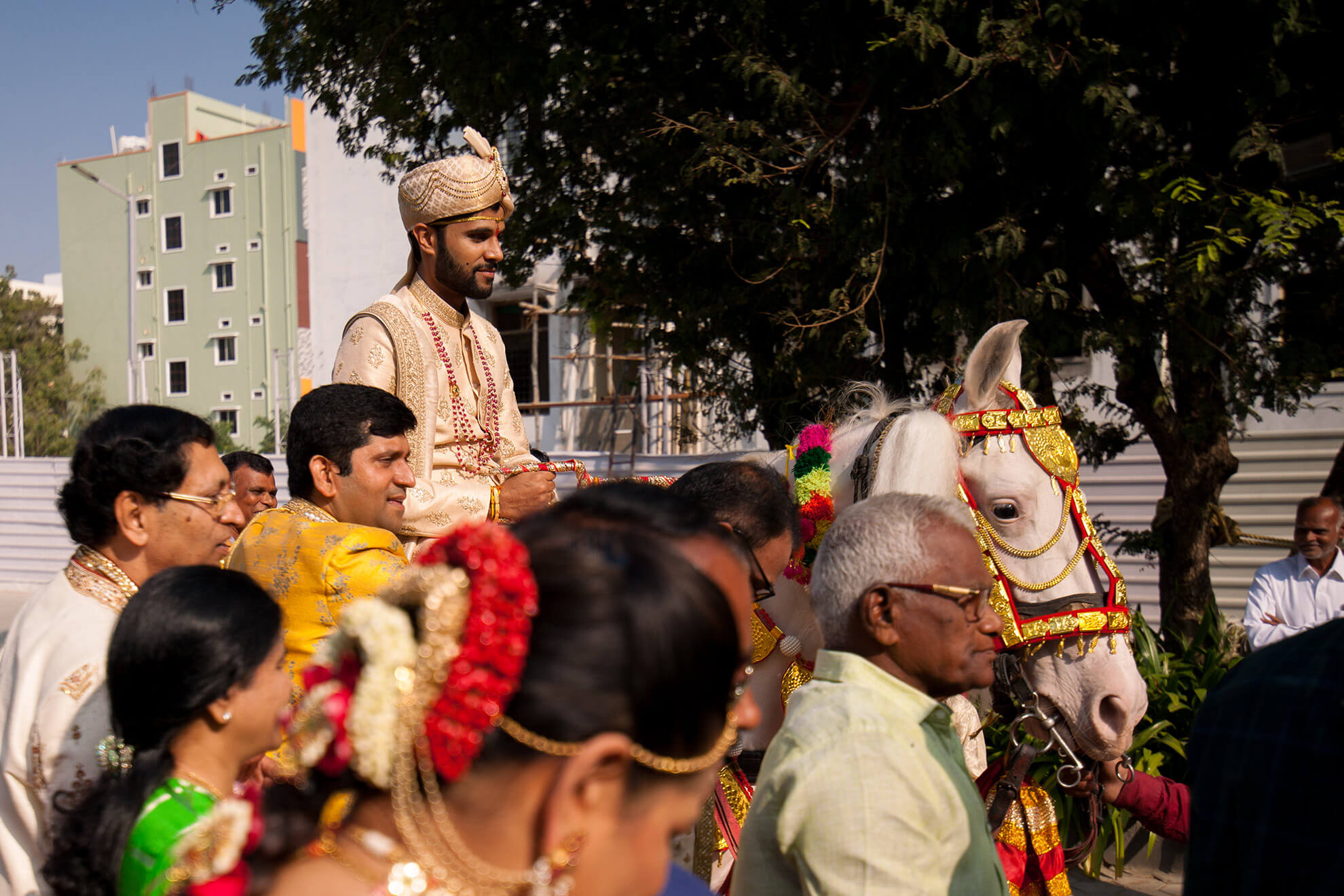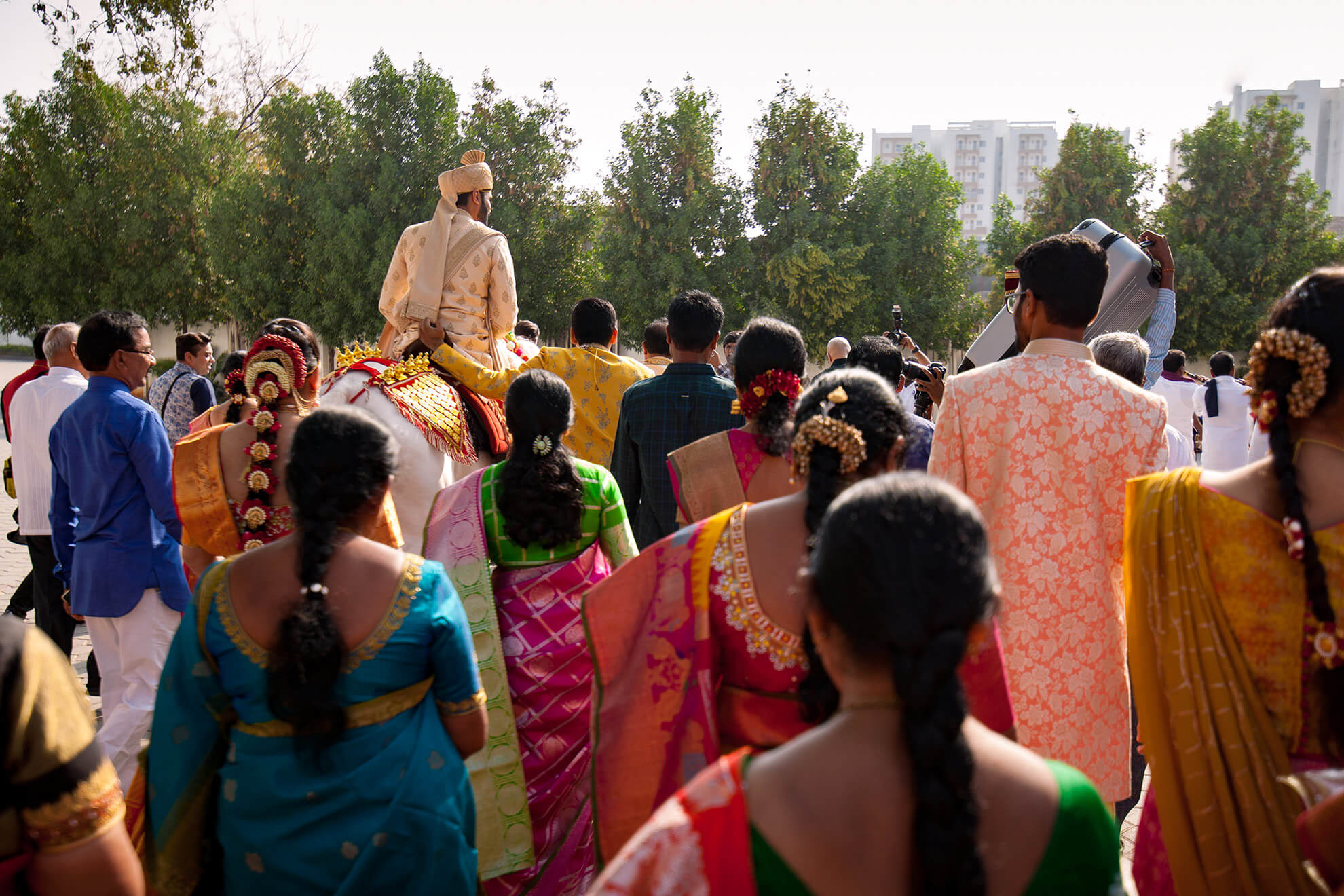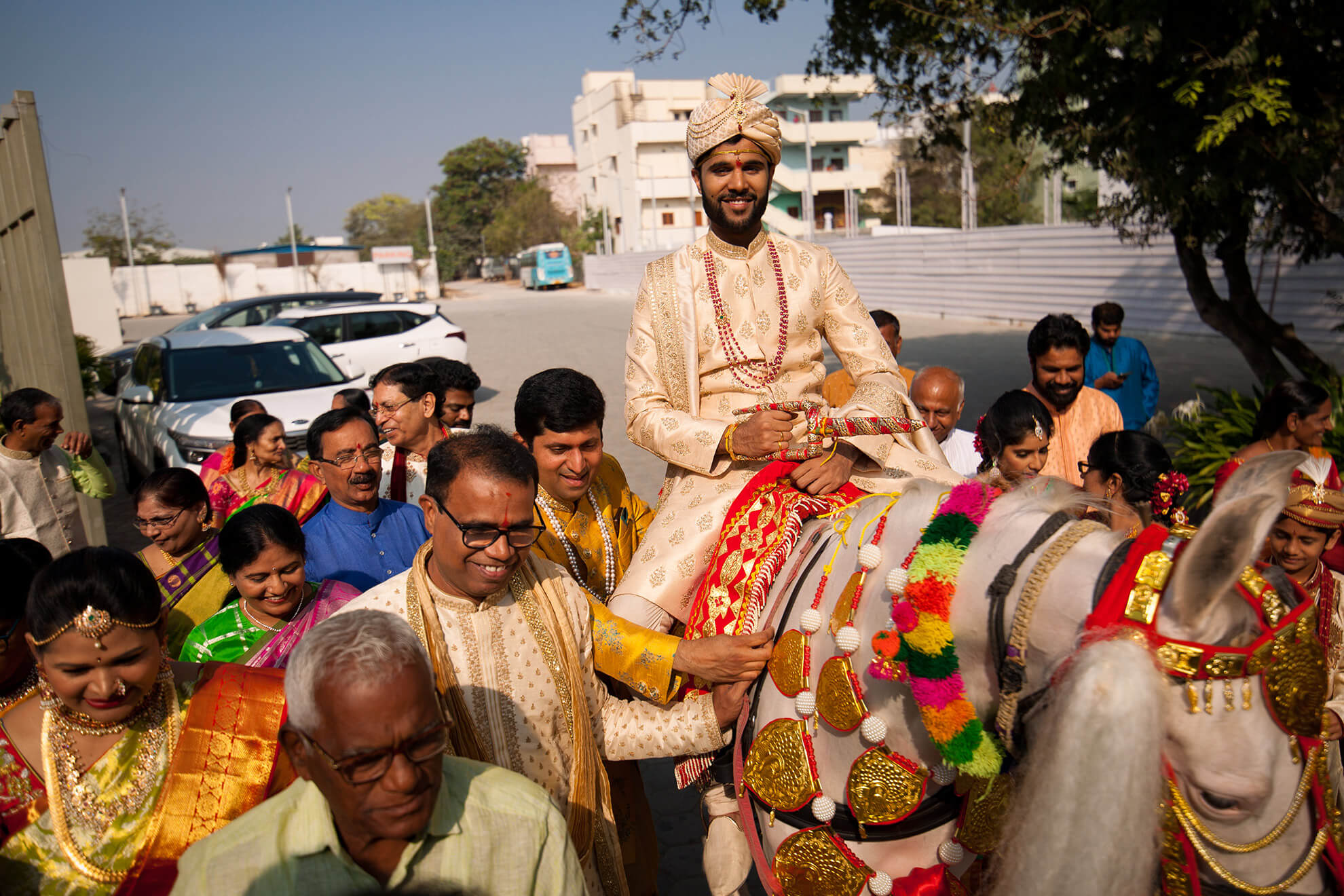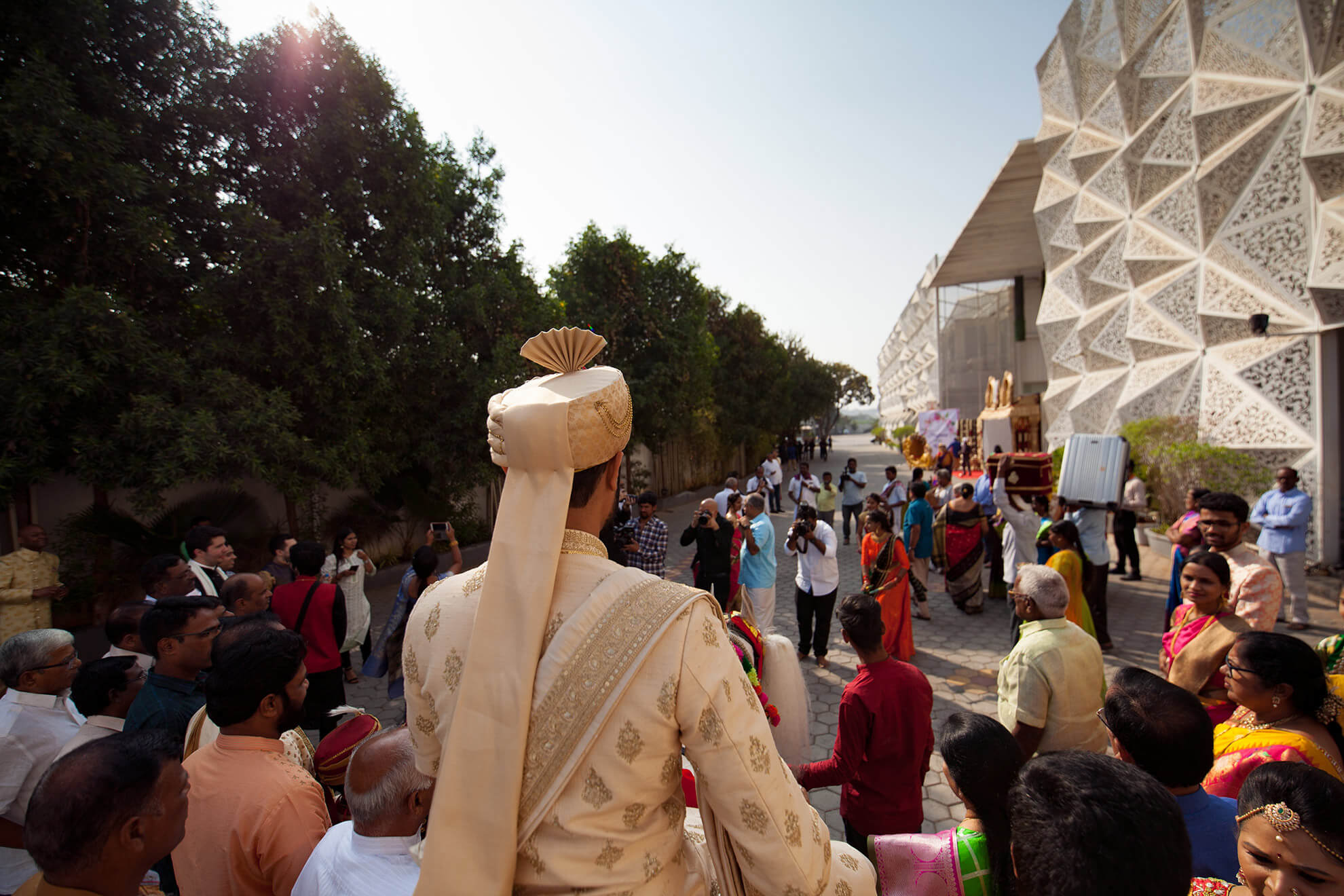 Busy Streets
There is no doubt that the streets of India are some of busiest in the world and because of that, it's quite normal to have a hired driver take you to and from any place you might need to go. It might sound excessive, and sometimes it's a lot easier to just walk 20 minutes down the road, but a 1-mile drive could take an hour by car. And during that hour of slow-moving chaos, you see that the majority of the advertising – via signs and billboards hanging all over the city – are focused around weddings and wedding clothing.
Weddings and marriage, in general, are a huge part of Indian culture, which to most reading this, isn't much of a new fact. Even if you know next to nothing about cultures other than your own, there's a great chance you know something about Indian weddings. From henna to the dancing or that Indian weddings can last for many days, love and the love story of two joining together in Hindu tradition, is a really big deal.
But the importance, the mainstream media output I saw around the city was breathtaking. While I was talking to one of Rishi's uncles in between wedding ceremonies, he told me that marriage is so sacred and so believed to be the way to live, that there are no specific Hindu scriptures on divorce or what one should do should they want a divorce.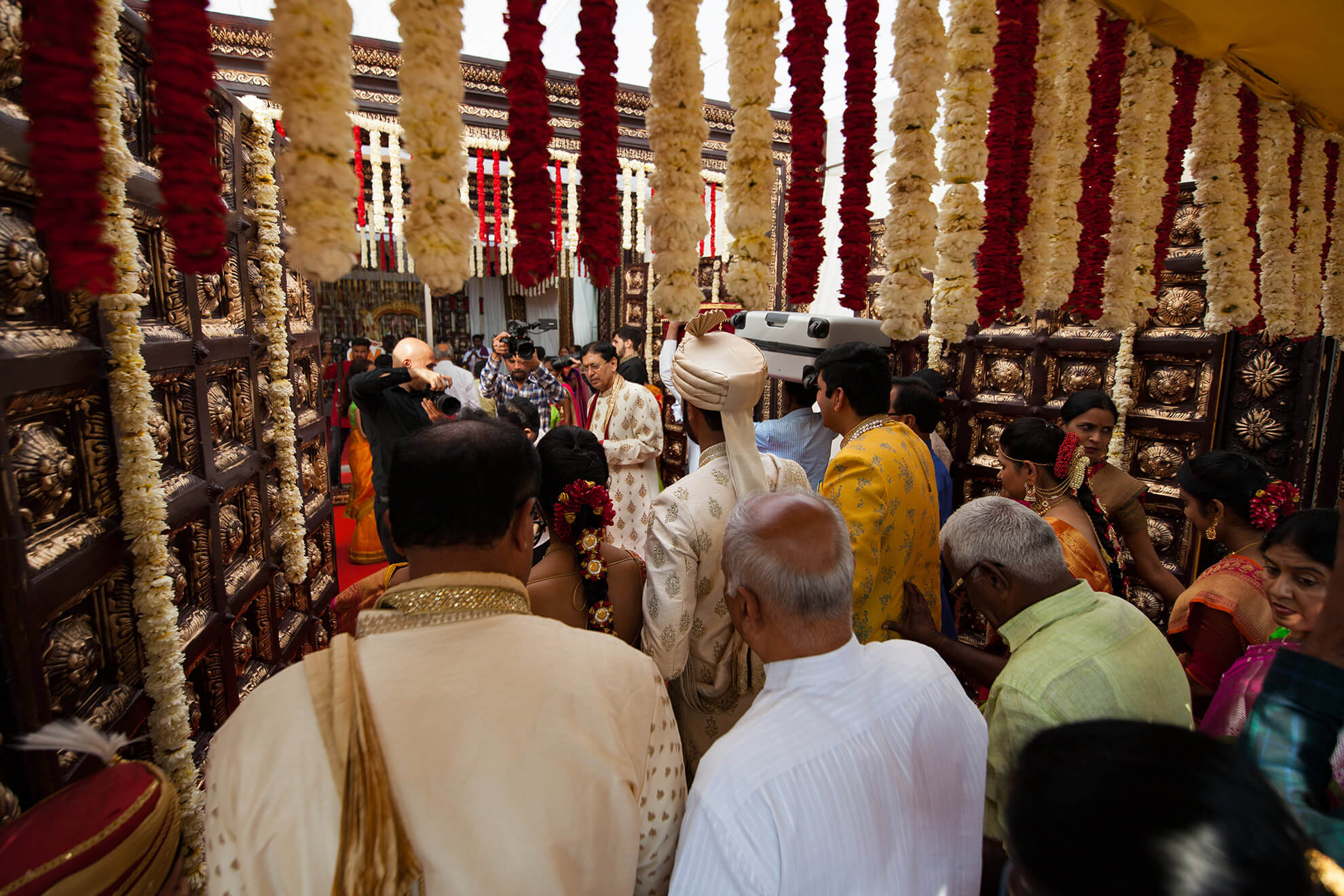 One of my favorite images of the wedding: Rishi absolutely surrounded by photographers, family and walking under ribbons of handmade flower garlands. There was a sense of majesty felt, and the structures that were used to decorate the scenes and locations were almost always colorful, or golden.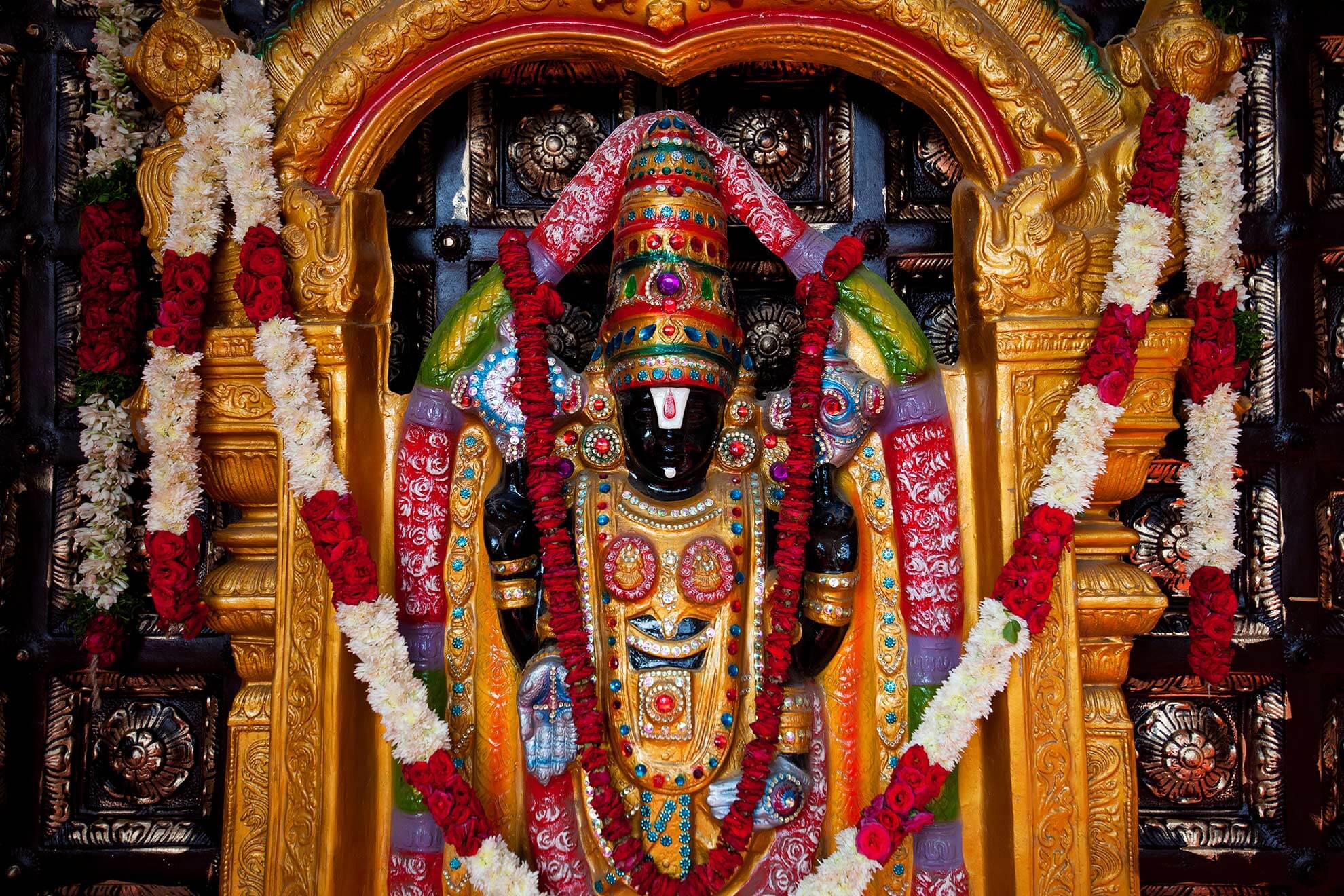 A statue of Lord Venkatesha is seen at the entrance of the complex. Lord Venkatesha, also known as Lord Vishnu, is known as a God of life and has over 100 known names.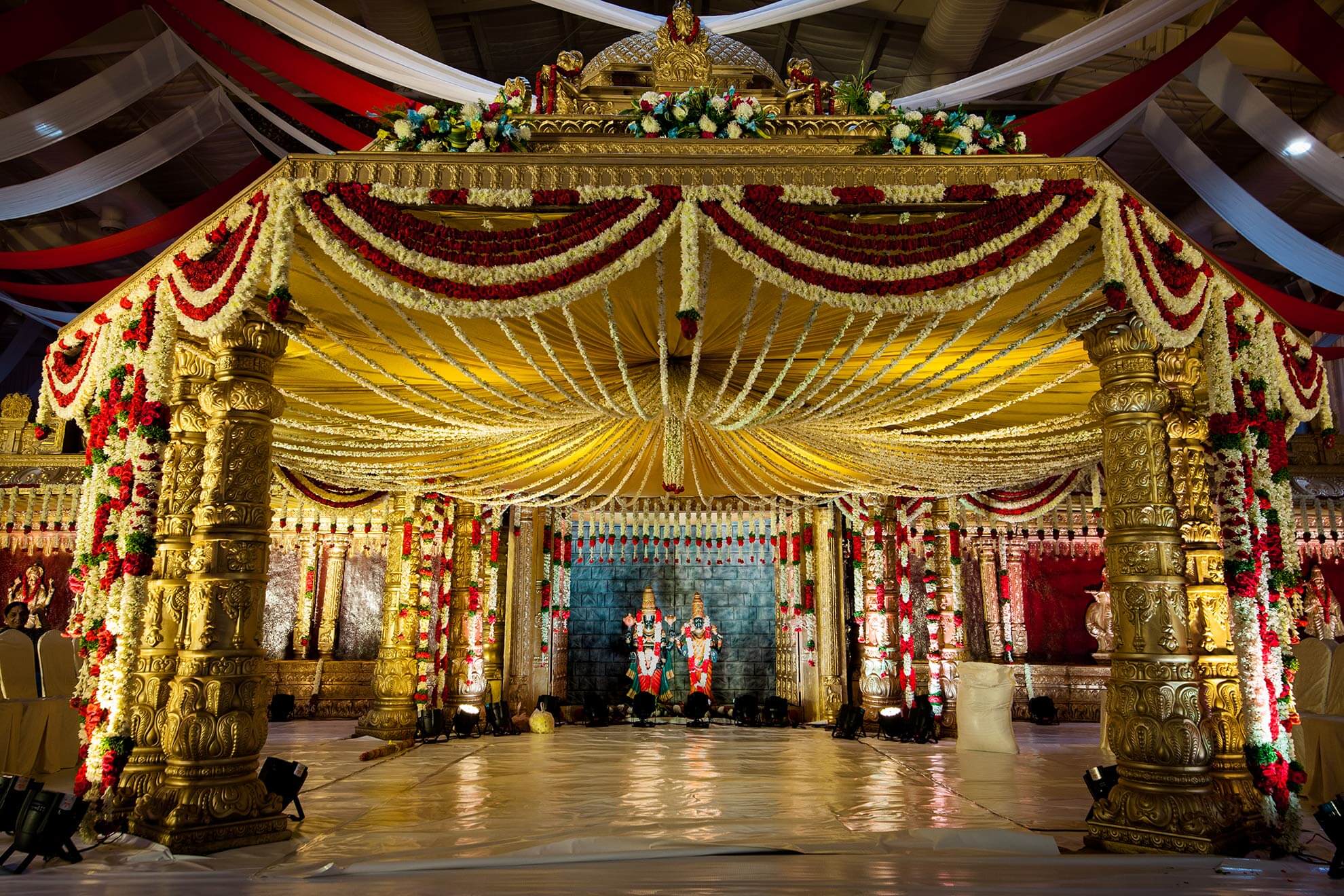 This structure, under which the couple would finally be married, is covered and lined with hand made garlands of flowers. The entire structure was taken down within 30 minutes in preparation for the next wedding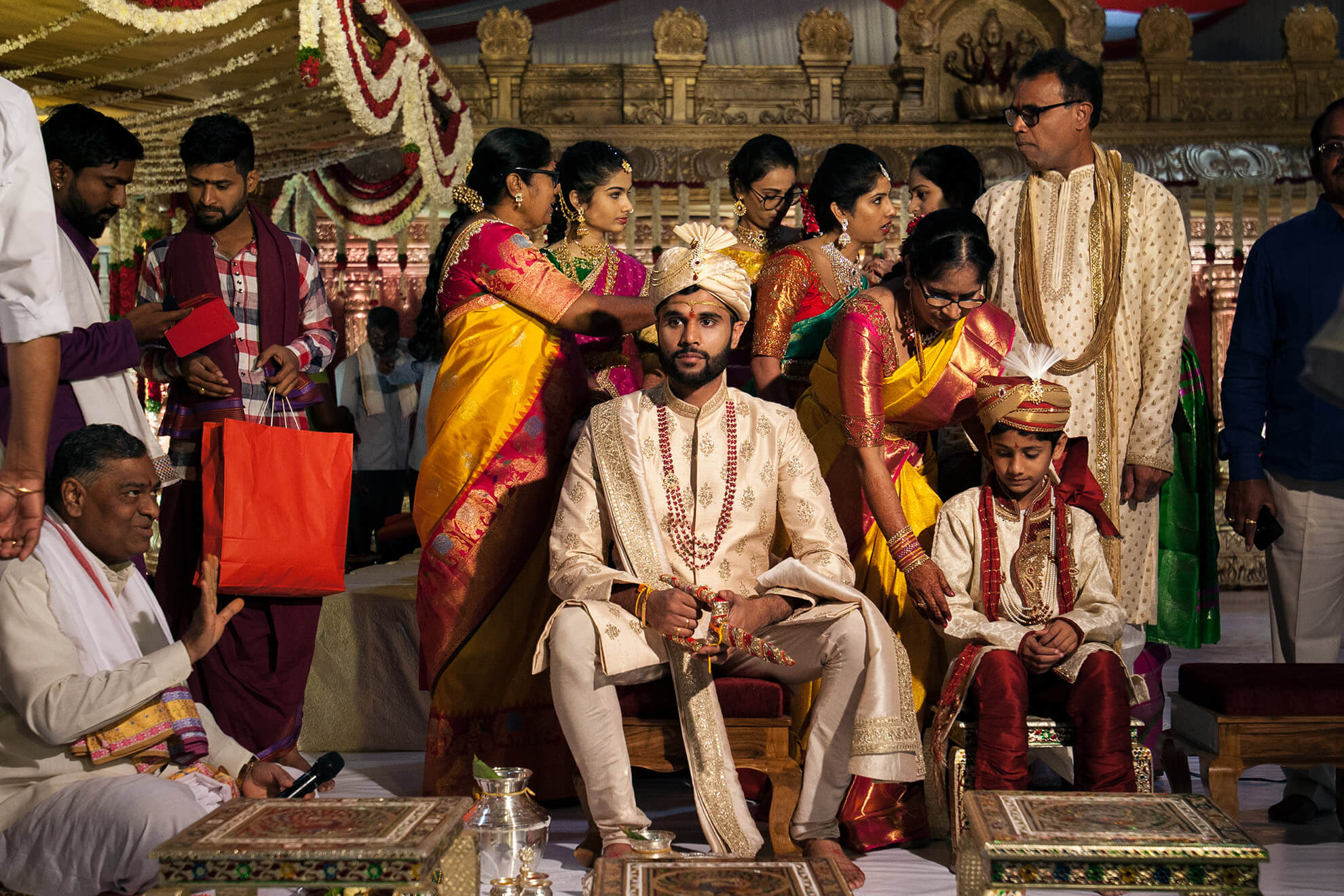 Rishi and the rest of Rishi's family await the arrival of his soon-to-be-bride, Meghana. In a few minutes, Meghana and her family will sit opposite of Rishi and the beginning ceremonies will begin.
While asking some friends about a few of the meanings of some of the ceremonies at the wedding, I was surprised to hear that while the arrival of the groom is called the Baraat, yet there is no name for the arrival of the bride. Nonetheless, Meghana's entrance was very beautiful and the gold and red and flowers were very majestic.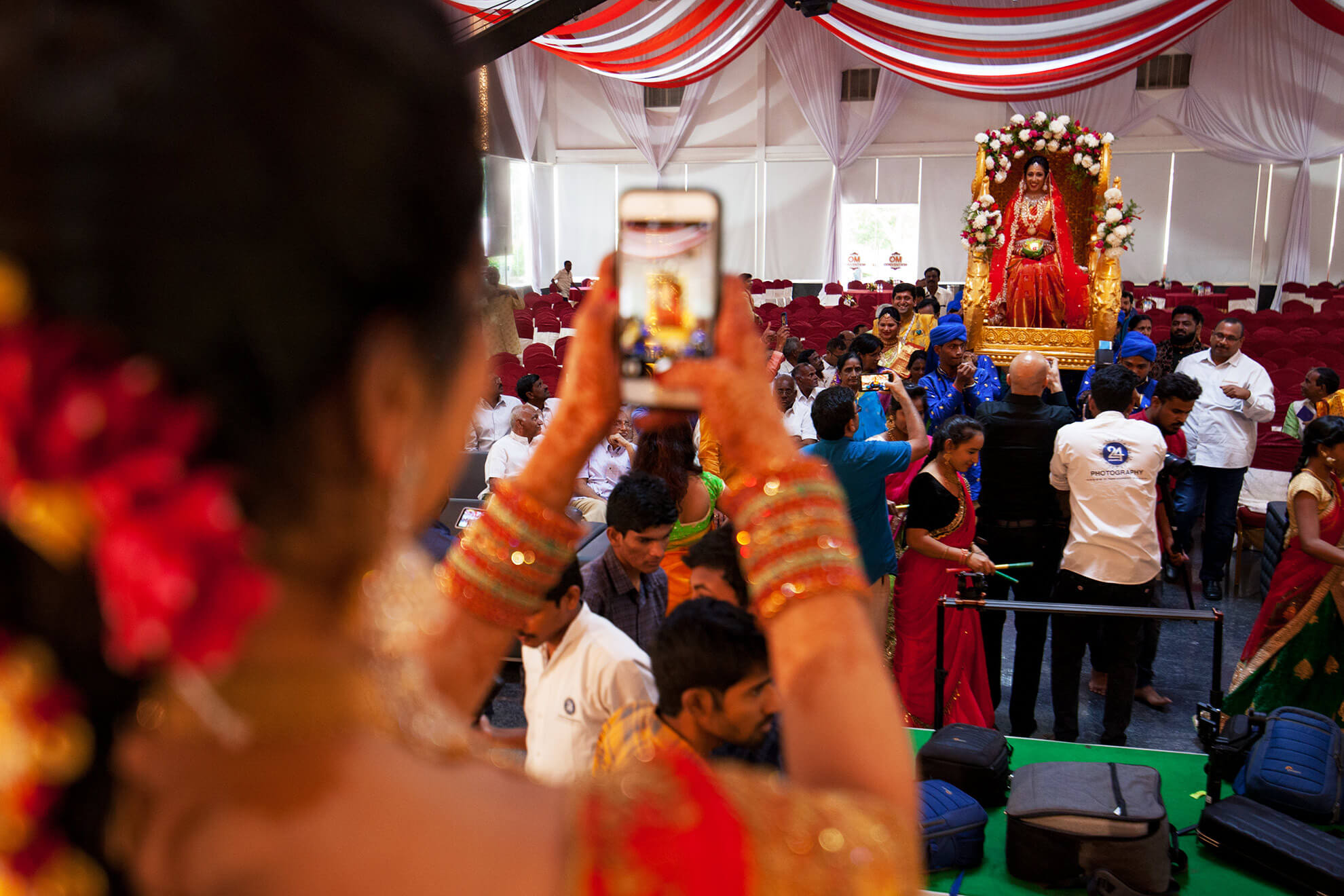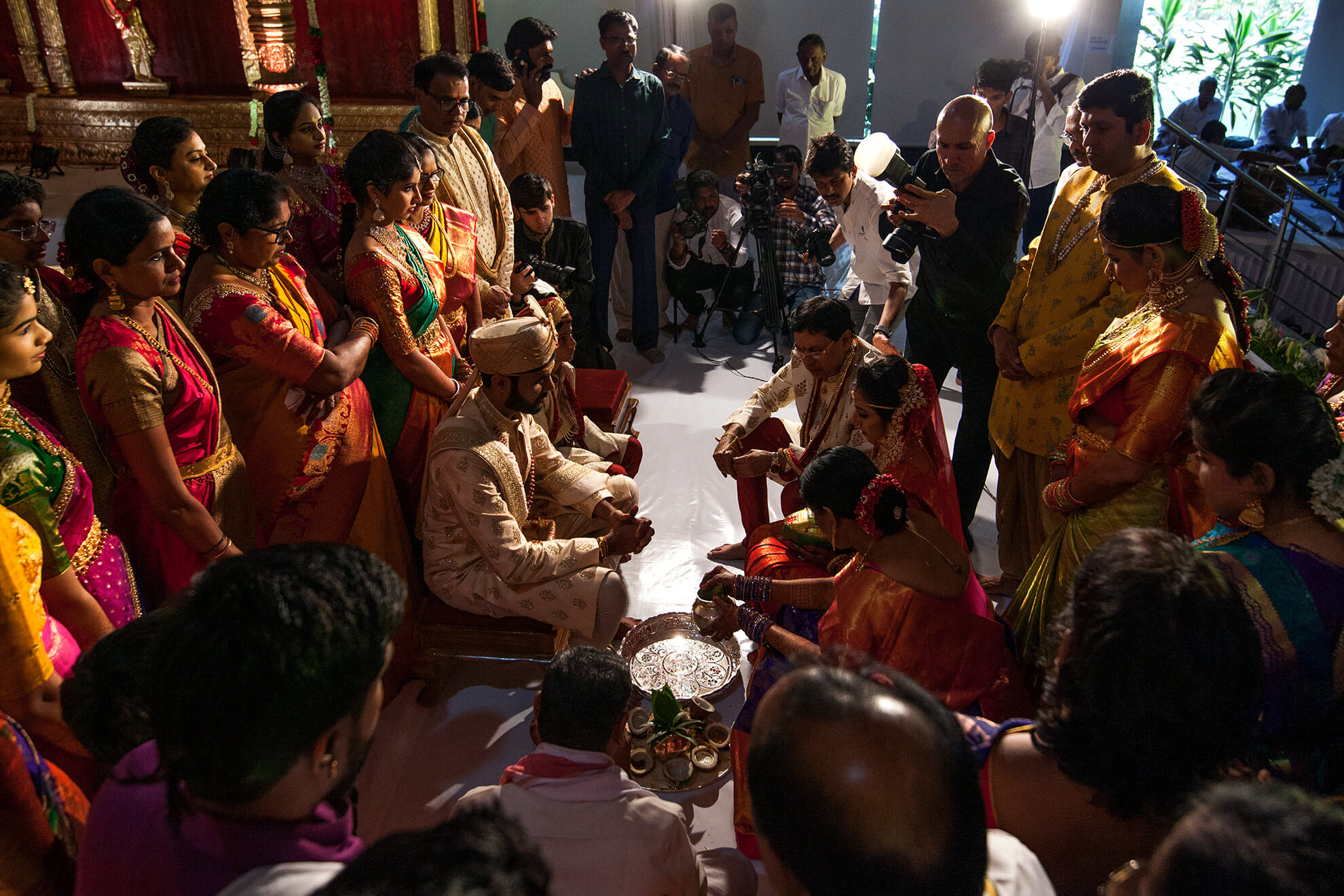 With Meghana arriving, the couple sat together for the first time all day, the stage filled up quickly and a feeling of anticipation grew on the faces of those around. The number of cameras on stage made it feel like a royal procession. Everyone was dressed in fine clothing and adorned in gold, it was like a living museum.
The following images are very few compared to the number of rituals that took place once the couple was facing one another. Each individual ritual symbolized a specific intention from the ancient scriptures and I loved how simple they were and that they are still in practice.
At one point, after the two were officially married, they played a few games as tradition has it. In one of the games, the couple sat about five feet from one another and a silver platter of various foods was next to them. Sitting upright, they took turns trying to get the other to bend forward so that they could receive the food they were presenting them. The family say behind each of the two and tried to prevent them from bending forward, which would basically render the round a loss. This went on for at least an hour and each time, the food was different. They used rice and curds and other foods that were both wet and dry.
For a different little game, the two sat in front of two deep, ceramic looking vases or pots. A gold ring was then placed into one of the pots, but neither of the two was allowed to know into which. Once they were allowed, they quickly dug their hands into the pots, and whoever pulled out the gold ring won. It was sweet watching this game, which lasted a good handful of rounds. Sometimes one would let the other win and you could tell. Other times, they competed quite fiercely.